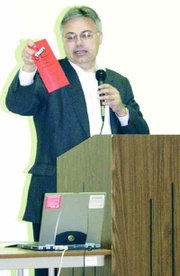 No one is safe from identity theft.
Sunnyside Police Department Capt. Phil Schenck said in the past few years two Sunnyside police officers' families have been victims of identity theft, which has marred their credit.
One officer's wife's identification was stolen from a store she worked at, according to Schenck.
Thinking she had misplaced it she thought nothing of the missing ID, until she received a car license in the mail for a vehicle she didn't purchase. She then received a registered letter in the mail from an impound company asking for $1,100 because the car had been towed.
About two years ago an officer attending a class in California had his personal information stolen, along with personal information of several other officers attending the class.
The officer was sent to collections and Schenck said it took months to straighten out the credit issues.
"These people are lucky. They've been able to clear their names," said Schenck. "Most of these crimes can be avoided."
Identification theft is prevalent around the United States, but Washington state is number 10 in having the highest number of ID thefts per capita, according to Chuck Harwood, regional director of the Federal Trade Commission, who was the keynote speaker at an identity theft forum Wednesday night.
People can be victims of identity theft through stolen mail, or stolen purses, but they can also be taken advantage of over the Internet. Schenck said that it is important to make sure that if a vehicle is sold that the bill of sale is sent in, just in case the vehicle is used in a crime.
Harwood, Colleen Ellingsworth, address management coordinator for the Yakima U.S. Postal Service, and Marsha Costin, operations manager serving Eastern Washington for the Better Business Bureau, were all speakers at an identity theft forum held at the Sunnyside Community Center.
Ellingsworth has been with the United States Postal Service for 21 years and has worked with locking mailboxes 19 of those years, she said to those attending the forum. Over the last six months identity theft has grown in Yakima, according to Ellingsworth. She is averaging six calls a day dealing with stolen mail or identity.
"Up to five years ago it was a rare thing," she said.
She said to keep mail safe it is important to not mail anything from an unsecured home mailbox.
"That flag is just a red sign that there is something there," said Ellingsworth. "Take your mail to the post office."
She said people will leave bills with banking information, signatures and other personal information in their mailboxes for anyone to take.
"We have people with thousands of dollars taken," said Ellingsworth.
She said with recent trends she has been getting numerous calls on locking mailboxes. Cluster boxes have locking front panels and individual doors so postal customers have access to their mail, she said. The smallest box has room for eight customers. They also have lockers for larger parcels.
Ellingsworth said that although it is a costly investment up front, it can be worthwhile if it protects mail. She recommend "good friends" or home owner associations going together to purchase a cluster box.
Since 1988 Costin has been with the Better Business Bureau (BBB) and at that time identity theft wasn't part of the BBB vocabulary.
Last year the BBB received between 15,000 and 25,000 calls per month on identity theft. She said that with the rise of Internet sales there is the question as to if it is safe or not.
She said that web sites that begin with "https" are considered secure sites when purchasing off the Internet.
"Every website should have some sort of privacy policy and information on who they share their information with," said Costin.
To find out what kind of company you are shopping with, Costin said that companies can be searched by name or phone number at BBB.org.
Complaints filed against the company and how long the company has been in business is listed on the website.
"Just because a company has a complaint doesn't mean it's a bad company. It's how they take care of those complaints that's important," said Costin.
When shopping by e-mail, Harwood added, it's important to beware of those who are "phishing," which means they are e-mailing you and saying they are from a legitimate company, when what they are really after is personal information.
Harwood said that 42 percent of the complaints filed with the Federal Trade Commission (FTC) last year dealt with identity theft.
He said that over the past three years the amount of identity theft has increased dramatically.
In 2001, 39 percent of the calls to the FTC, or about 86,000 calls, had to do with identity theft. In 2002, about 161,000 calls, or 40 percent of the calls for the year, were identity theft related.
He said the problem is bigger than that.
"Very few people who are victims of identity theft complain to us," said Harwood.
The Federal Trade Commission estimates that about 9.9 million people have been a victim of identity theft in some way or another.
About 3.2 million have new accounts started in their name, 1.5 million are victims of people taking over existing accounts and 5.2 million are using someone else's credit cards, said Harwood.
Recovering from someone using your credit card is the easiest to recover from, he added.
Most people who are victims of identity theft don't lose any money, according to Harwood.
"Businesses end up paying for most of the identity theft," he said. "It comes back in the form of higher prices. We estimate that last year businesses paid $47.5 billion for identity theft."
Although for most the monetary drain is very little, people can spend 10s and 100s of hours clearing their financial records of the blemishes from identity theft.
To help minimize the risk, Harwood suggests that people not carry their social security card with them.
"You do not need to carry your Medicare card either," said Harwood, adding that hospitals can look up the information that's needed. "There's no reason to carry that card if it has your social security number on it."
He said it is also important to be proactive and order a credit report at least once a year.
A new law going into effect the end of this year will allow people to order one free credit report per year, according to Harwood.
To order a credit report, Harwood suggests contacting one of the three major credit reporting companies: Equifax (800) 685-1111, Experain (888) EXPERIAN, or TransUnion (800) 916-8800.