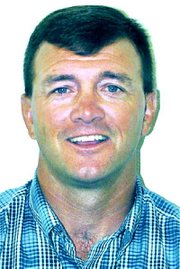 BOSTON - Mid 80-degree temperatures devastated the Boston Marathon field this past Monday. The unusually high temps resulted in more than 1,200 of the starting runners dropping out of the 20-plus-mile race.
But there was one runner who wasn't going to quit, come hell-like temperatures or high water. He had traveled too far to compete in this prestigious event to not bring home an official placing.
This particular iron man, bent on finishing the Boston Marathon in his first ever attempt, was Sunnyside's own John Kilian.
"Hey, when it's hot and sweaty, I love it," Kilian said on his return to Sunnyside this week. "I'm a wrestling coach, after all."
The 41-year-old affable, well-liked Lower Yakima Valley man actually fared better than most might have figured. Kilian finished in the top 10 percent, placing 1,514th overall from a starting field of 17,950 runners. In the open men's division in which he was competing, Kilian was the 1,402nd runner to cross the finish line on Boylston Street.
"What a rush," Kilian said. "The pageantry of it all, the history.
"When they put that medal around your neck, it's something. I'll be honest, I teared up," he admitted.
The Boston race was just the second marathon Kilian has ever competed in. His first attempt came last August, in a qualifying marathon near Elma. He toured the small Washington state marathon in just under 3 hours and 21 minutes.
"My goal in Boston was 3 hours and 15 minutes," Kilian said. He didn't quite hit his mark, finishing instead in 3:21.10.
But, considering the heat and the number of runners who either couldn't finish the race or who turned in their slowest times ever, Kilian is more than pleased with where he ended up.
"When it's hot out, you just have to get it in your mind that you love the heat," he said. "Same thing when you're training in the cold, you have to love it."
What about Heartbreak Hill, often times the defining moment for runners in the Boston Marathon?
"Really, it wasn't that bad," said Kilian. "But hey, when you train on Swan Road and Harrison Hill, how bad can it get?," he quipped.
A return trip to the Boston Marathon?
Not out of the question, said Kilian.
"I'm afraid I'm hooked," he said.