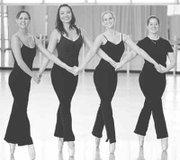 ELLENSBURG - Central Washington University's Orchesis Dance Company will present its 37th spring concert next week-April 29, 30 and May 1-in McConnell Auditorium on the Ellensburg campus.
Titled "Extensions," this year's annual spring performance will include classical ballet, modern, jazz, tap and ethnic dance.
Therese Young, CWU dance program coordinator, will direct the performance by the 40-member group, half of whom are dance minors at CWU.
The featured works will include:
• "Forests in Flight," choreographed by Alex Holden, a CWU senior from Auburn, which incorporates unusual movement with exotic masks;
• "Snake Food," choreographed by Marie Galey, a CWU senior from Wenatchee, which "resonates an earthy, tribal feeling," said Young;
• "Trials and Tribulations," which pays tribute to Holocaust survivors who are each forced to deal with the reality of death. This piece was co-choreographed by Holden, April Ott of Mill Creek and Carla Pitts of Kirkland.
The performances will begin at 8 p.m. each evening, with doors opening at 7:30 p.m. General admission is $7. Pre-sale tickets are now available in the CWU Student Union Building and at Ellensburg's Downtown Pharmacy. Tickets will also be sold at the door.
The Orchesis spring concert is being co-produced by the CWU health, human performance and recreation, and theatre arts departments.
More like this story