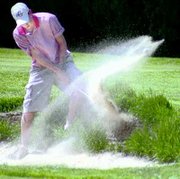 Draining three birdie putts yesterday, Andrew Schutt paced the Sunnyside High School boys golf team to a 314-373 victory over Prosser.
Thursday's Mid-Valley League win upped the Grizzlies' conference record to 2-1 on the season.
Schutt carded a three-over 75 against Prosser, his low round of the season. The two teams staged their league match at Sunnyside's Black Rock Creek Golf Course.
"It seems like every week since the first week of practice, he's gotten better," said Sunnyside Coach Glenn Braman.
"Andrew said he putted very well. He's one of the better putters I've seen," Braman said.
"The 75 he had yesterday, he's capable of shooting that every time out," Braman added.
Schutt opened his round with a birdie-3 on the opening hole, picking up another bird before the turn on the par-4 eighth. He slid into the clubhouse at the turn with an even-par 36. Schutt knocked down one more birdie putt on the back side, that coming on the par-5 13th hole.
The Grizzlies also got a rock solid performance yesterday from another junior, Kevin Lick. Lick fired a pair of 39's on the two nines for a six-over 78. His round included nabbing a birdie on the par-4 finishing hole.
Braman said Lick expects more from his golf game than the 78 he turned in yesterday. "He wasn't real happy with how he played," Braman said.
Third in for Sunnyside was Zach Hathaway, who carded his best round ever by shooting an 80 (39-41).
"Zach has had a 78 in a practice round, but his 80 yesterday was his lowest in a competition," Braman said.
Hathaway's round on Thursday included a bird on the par-4 fourth hole.
Rounding out the varsity team scorecard for Sunnyside was senior Chris Trammel's 81 (42-39). Trammel's highlight of the day came on the 400-yard-plus 16th hole, which he birdied.
Three other Sunnyside golfers also competed yesterday, although their individual rounds weren't applied towards the team scoring. They included Jeramie Drollinger and Josh Ross with a pair of 100's, and Ryan Webster with an 88 (42-46).
Prosser's top finisher yesterday was Jarid Leighty, who claimed an 89.
Sunnyside's golf team is scheduled to play West Valley in a non-league match next Tuesday at Apple Tree Golf Course.