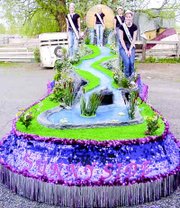 Sunnyside community float ready to roll
by Julia Hart
Small trolls hiding among the flowers, giant frogs resting on lily pads and tiny sprites floating among the trees are all used to create "A Mid-summer's Night's Dream," theme for the Sunnyside community float.
The float, which has been under construction since mid-February, will made its 2004 debut Saturday, May 1, during the annual Granger Cherry Festival parade, to be held at 11 a.m. in downtown Granger.
More than 950 hours have gone into creating the moonlit stream that dominates the float, surrounded by woodland flora and creatures.
Sunnyside's Ray Fujiura, who has been the designer for 14 Sunnyside community floats, said this year's float looks to be another award winner.
"The parents have done a great job with this year's design. They even added a few touches of their own. It's a great looking float," Fujiura said.
"We were anxious to hear Ray's opinion of the float since none of us had ever worked on a float before," said Bruce Epps, who along with the other parents of the Miss Sunnyside Court have spent nearly every night at the Outlook Road float barn since February.
"We're pretty happy with how it turned out," said Randy Skyles, whose daughter, Chelsea, is Miss Sunnyside. Epps' daughter, Amber, is a princess on the court.
"We also got a new stereo system for the float this year," said Allen Stroh, whose daughter, Jill, is also a princess on the court.
"We also had help from the Sunnyside High School art department to create the summer moon," he added.
In addition to Epps, Skyles and Stroh, Miss Sunnyside Princess Celeste Allen's parents, Dyan and Wade Allen, have lent a hand on the float construction, as have court mothers Barb Skyles and Jan Epps and Amy Stroh.
"It's been a real family fair," said Epps.
In addition to the adults working on the 80-foot float, the court rolled up their sleeves to help glue paper petal and flowers to their summer chariot.
The float crew put the final touches on the fairyland float this past Wednesday night. Epps said the float is now tucked away in the float trailer awaiting the first of its 16 parades.
"We will be taking the float to parades every weekend in May and June," said Epps.
The float and the Miss Sunnyside Court will be representing their community at parades from North Bend to Walla Walla during the course of the summer.
"We'll be doing a lot of traveling in August and September," Epps said.
"We get a little break in July with only one parade on July 10, in Royal City," he said.
"It's going to be a fun summer, watching the crowds respond to our float and to the girls riding the float," he said.