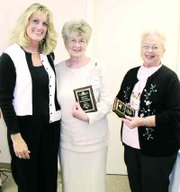 For the past three years Sunnyside Community Hospital volunteers Betty Brown and Donna Langworthy have manned the front door to the hospital, accepting flower deliveries, showing people to different areas of the facility and at times just serving as a smiling face during people's times of need. The two women were recently honored as the hospital's co-recipients of the Volunteer of the Year award. The honor was presented during a luncheon this past Tuesday afternoon.
The two women started volunteering at the hospital at approximately the same time, with Brown serving as a greeter in the hospital's admitting department Tuesday mornings and Langworthy coming in Tuesday afternoons.
Brown said she first started volunteering at the hospital after several of her friends, who regularly volunteer there, told her it was something she might enjoy.
"[It] came at a time in my life when it just seemed right," Brown said.
She said through her volunteer position she has gotten a chance to meet a lot of people.
"It's a satisfying feeling, being able to help people," she said.
Brown said often times when people come to the hospital the one thing they really need to see is a friendly face. She said people often come into the hospital with a lot of concerns and questions, and it's her job to be friendly and make them feel at home.
"They need kindness," she said.
Volunteering is nothing new for Brown, who is a member of a number of service organizations, including the Society of Military Widows, Veterans of Foreign Wars, American Legion and the Sunnyside Community Hospital Auxiliary.
"I would encourage anyone who likes people to volunteer," she said.
Brown said she enjoys her position at the hospital so much that she doesn't even consider it work.
"Sometimes I feel like I should thank that hospital for letting me volunteer," she said. "It's enjoyable."
Langworthy said she also enjoys the time she spends at the hospital, noting that she gets to talk to a lot of new people as she greets people in the admitting department.
Langworthy also started volunteering about three years ago, after her husband passed away. She said she had a friend who was volunteering there, who told her about an opening that was available on Tuesday afternoons.
"She knew I had some extra time," she said.
Langworthy said she enjoys spending time helping people find their way around the hospital, noting that often times the facility can be like a maze. She said her job also includes keeping watch over the parking lot for people who may need a wheelchair as they come into the facility.
Langworthy said she also feels her job is to make people feel welcome when they come into the hospital.
"It's probably not a place they really want to be," she said.
The hospital isn't the only place Langworthy donates her time. She also spends time volunteering for Hospice and at the Calvary Lutheran school.
"It's just good to keep busy," she said.
Both Brown and Langworthy were pleasantly surprised when they were name co-volunteers of the year during the volunteer luncheon held Tuesday afternoon.
"It was quite a surprise," Brown said. "A shock, really."
Langworthy said although it was a surprise, it was also a nice acknowledgment for the work the two women do at the hospital.
"It's kind of an honor," she said. "You feel like you're doing what you are there for."