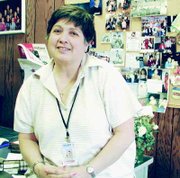 Surprisingly, Vancouver has one of the largest Russian populations in the state. The small community of Blaine also has a large Russian population, while the Soap Lake area has a community of Ukrainian descendants and Raymond has a large Asian population.
These are all groups served by the recruiters and trainers for the Migrant Student Data and Recruitment Office (MSDR), which has its main office in Sunnyside on the second floor of the Lincoln Building.
For 12 years Rachel Carrera, the daughter of migrant farm workers, has been a recruiter and trainer for MSDR. Born in Montana, Carrera's parents worked the sugar beet fields before moving to Eastern Washington.
It's children, not that unlike herself, she serves on a daily basis, providing them with information on services available to migrant workers and options for them to earn their education.
A Sunnyside native, Carrera moved back to the Lower Valley 12 years ago after a year of living and working as a teacher and a nanny to 24 children living at an orphanage in Ocozocoautla, Chiapas, Mexico.
Chiapas is the poorest state in Mexico, said Carrera, adding that the state bordering Guatemala is also the least educated in the country.
"When I left in 1991 they were building the first shopping center in the capital of Chiapas," said Carrera. "Most people didn't have refrigerators, stoves or running water."
She moved to Mexico after living in Portland, Ore. for nine years.
"I wanted to serve the Lord in another aspect, so I sold my house, bought a car and left," she said.
"I had the only Toyota in the whole state of Chiapas," said Carrera. "There were a lot of things about me that stood out."
After a year and a half Carrera returned to the United States.
"My mother was growing older and she was concerned about me living in Mexico by myself," said Carrera.
After a visit to Sunnyside, Carrera was preparing to move back to Portland, Ore., where she had lived for nine years before moving to Mexico, when one of her brothers encouraged her to make her home in Sunnyside.
It was partially because of her recent experience living in Mexico that Carrera was chosen as a recruiter and trainer for the Migrant Student Data and Recruitment office, which serves a variety of migrant ethnic groups in the state.
As a recruiter and trainer, Carrera is on the road three weeks each month.
She and the other recruiters in her office work with two different kinds of school districts, project districts, which receive federal grants for migrant students, and non-project districts, which do not receive any funds, she said. In project districts, Carrera said they work as trainers, teaching home visitors and record clerks how to identify and recruit migrant students in their school districts.
In non-project districts, Carrera looks for migrant children who are not in school and encourages them to go back to school and earn their degree. She also talks to the district about applying for federal funds.
"I'm trying to work myself out of a job," Carrera laughed.
In 2003-2004 there were 49,765 migrant youths identified. The youths are being served by both the MSDR and home visitors.
The youth they serve are not just Hispanic. She said that numerous ethnic groups are served by her office, but Hispanic and Native American youths seem to get the most attention since they have the highest dropout rate.
"Our goal is to get them back in school and to persuade them to graduate," she said.
With 12 years working for MSDR under her belt she has seen quite a few youths graduate from high school and move on to college who probably wouldn't have if she had not been there to encourage them to go to school.
As a recruiter, Carrera has a protocol to follow before going into a school district.
She said they first contact the superintendent and ask for permission to work in their school district. If they are approved, they contact English as a second language teachers in the community and any agencies that might cater to the migrant population and be able to help locate the families, she said.
In the summer months Carrera's job takes a more proactive role.
She said because of the impact of people moving to the agricultural areas to work in the apples, cherries, pears and other agricultural industries, Carrera actually goes to the labor camps and fields to find youth and their families.
"It's hard in the summer. I'll be in Omak or Tonasket and it will be 108 degrees in the shade," she said.
Carrera said the educational services are among the most important the MSDR program offers.
"We try to find programs such as the high school equivalency program (HEP) and portable assistance study sequel (PASS) for they youth," said Carrera.
She said MSDR also has free accident insurance available for migrant children living in the state.
"Letting them know what services are out there and what services are available so they can be successful, to me, that is what's important about my job," she added.