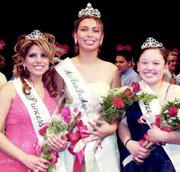 Nicaragua native Kathya Quijano has been named the 2004-2005 Sunnyside Miss Cinco de Mayo.
The Sunnyside High School junior was crowned Friday night at a pageant held at the Sunnyside High School auditorium. Princesses for 2004-05 are Rosie Moran and Iris Ester Ruiz.
Themed Corazon Latino, or Latin and Heart, the pageant featured 10 contestants vying for the opportunity to represent the local community, and danced to rhythmic Latin tunes as part of group performances.
The candidates also performed their own individual talents, which included singing and dancing.
The competition was divided into five areas. Poise and the group routine each counted for 15 percent of the total points available. Talent and interview portions of the pageant each counted for 25 percent of the total score and 20 percent of the points were based on scholastics, according to Carlos Maya III, Miss Cinco de Mayo committee director.
He added that the third annual pageant is held to help provide young girls an opportunity to go to college.
Quijano, 17, lives in Prosser with her mother, Anita Lopez, but attends Sunnyside High School.
One of three children, she plays soccer, basketball, softball and is a member of the Grizzliettes. She is also a member of Link Crew, MeCha and Club SADD. Quijano is also a Sunday school teacher at her church.
Ruiz is also a junior at Sunnyside High School. She is the daughter of Angel Ruiz and Leticia Chavez. She is one of six children. Ruiz is a member of the Sunnyside Police Department Explorer post and she is a member of National Honor Society, Club SADD and the Future Business Leaders of America. Ruiz was also presented the Miss Congeniality award at the pageant. She was chosen for the award by her fellow contestants.
Moran is a senior at Sunnyside High School. She is a the daughter of Vicente Moran of Sunnyside. She has been selected as most inspirational, most improved and scholar athlete for her softball team. The 17-year-old is active in the Grizzliettes, Club TATU and Club SADD, and she is the senior class treasurer.
Also receiving special recognition at the pageant was Janet Gonzalez, who was selected as Miss Photogenic.