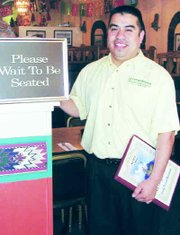 El Conquistador has become a popular spot in downtown Sunnyside to celebrate special family events, from birthday dinners to family reunions.
The popularity of the Mexican-American restaurant is due in large part to the friendly demeanor of owner-manager Jose J. Mora.
Mora, along with his family, came to Sunnyside just 10 years ago with a dream to go into the restaurant business. In December, Mora plans to stage a 10-year anniversary party to celebrate with his loyal customers the success of that dream.
"We are going to have a big fiesta with lot of live music and lots of good food, of course," he grinned.
Mora's restaurant employs seven people, who are kept busy serving Lower Valley diners seven days a week.
"We get a lot reservations for family events in our banquet room," said Mora.
"People like to come here to celebrate their weddings and quinceaneras," he said.
"People just like my food," he added.
The young entrepreneur continues to work long hours to made his business a success. But his focus isn't limited to his East Edison Avenue establishment.
This past year, he opened a second restaurant in Sunnyside, which specializes in seafood. His new establishment, El Senor Camaron, which is located on Yakima Valley Highway, serves seafood in authentic Mexican style.
"It's all good," he grinned.
His parents, who came to Sunnyside with their son 10 years ago, continue to operate the family taco wagon, which was the family flagship establishment.
The El Conquistador taco wagon is a popular addition to many community celebrations up and down the Yakima Valley, Mora said, noting his parents still enjoy traveling to the fields with their own spicy menu.
With all of the long hours Mora puts in to maintain his two restaurants, he doesn't have much time for a personal life, but he and his companion try to spend a lot of time with their 3-year-old daughter. "But I still have to spent a lot of time here," he said.
In the meantime, his commitment to the family business is paying off.
"We keep growing," he said. "Every weekend we are busy serving families who choose to dine with us," he smiled.
El Conquistador staff's dedication to giving good service and Mora's own friendly personality lea the Sunnyside Chamber of Commerce to name the young Sunnyside businessman its "2004 Outstanding Business Person of the Year" recently.
"I was really surprised at the honor," he said.
"The whole evening with all the decorations was a lot of fun. I'm happy to have been selected," he said.