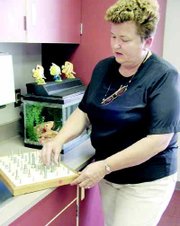 Kathy Williams' love for youth goes beyond looking at their physical limitations to see students struggling and succeeding in spite of their difficulties.
For 20 years Williams has been a para-educator for the Sunnyside School District, working in the Learning Assistance Center (LAC) room at the high school. She has worked with special needs students needing speech therapy, has served as a Special Olympics assistant coach and has taught a student basic life skills class.
"If it's got to be done, I just jump in and do it," said Williams.
Before Williams started in a full-time position with the school district, she volunteered testing youngsters, screening them for dyslexia and comprehension.
"They were looking to find things they could spot before they were put in a class," said Williams.
She was approached by Cathy Mears to consider being a substitute para-educator for the school district.
"I was recovering after falling off a house and I said, sure, but I can't walk," said Williams.
After recovering, Williams began substituting in each of the schools in the district.
At the end of her first year subbing, three positions became available, including the one for a para-educator in the LAC room at Sunnyside High School.
"I felt kind of pulled to the job at the high school," said Williams.
Her first class had about nine students.
"I've had up to 16 in my class with two in wheelchairs," she said.
Now the class is closer to her first class with eight students.
As a para-educator, Williams works with students on speech, reading and in the past she has even taught some signing.
With a small class, Williams is able to provide one-on-one help with homework, but her job entails more than the average high school class.
"We teach them how to brush their teeth and how to brush their hair," said Williams. "Life skills they will need after they get out of school."
She said that students have to be able to read basic signs and know some math so they aren't taken advantage of in the real world.
"They have to go into a restaurant and order and pay for food," said Williams.
She said they also have to learn their phone number so they can ask for help if they are lost, how to purchase items and find the price of them, and even how to cross a street.
"They cook sometimes in here," she said of the LAC room, which has a small kitchen facility.
"These kids are learning things they're going to need in the outside world," she added.
"I always felt like I'm here on a mission," said Williams.
While some days are more difficult than others, "...some days you can take 40 steps backward," she said it is worth it to see the joy on her students' faces when they accomplish something.
"They get so excited when they do something they've never been able to do on their own before," said Williams. "They're not afraid or reserved. They will try anything."
She believes that helping special needs students is a calling in life that is worthwhile.
"There's probably a lot of other things I would like to do," said Williams. "But who's going to do this for them. Who's going to fight for them. Who's going to stand up for them."