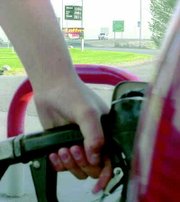 If the current trend of rising gasoline prices continues, few may be able to afford a summer vacation this year.
Yesterday, both the state and national averages for a gallon of regular unleaded gasoline hit an all-time high. Statewide, the average soared to $2.007 a gallon. Nationwide, the average cost to purchase a gallon of unleaded crept up to $1.808.
Washington state gasoline prices are the fifth highest in the nation. Only the Western states of California ($2.165), Hawaii ($2.159), Nevada ($2.116) and Oregon ($2.029) have steeper prices.
South Carolina is currently offering the lowest gas prices of all the 50 states, at an average of $1.672 a gallon. The next five lowest averages are Oklahoma ($1.675), New Jersey ($1.677), Georgia ($1.681), Texas ($1.685) and Missouri ($1.690).
Nationally, the average price for unleaded gasoline climbed more than a nickel per gallon in the last month, from March 27 to April 27. The national average at this time last year was $1.560 per gallon, 24.8¢ cheaper than it presently is.
National economists report that oil prices could be ready to fall, ending a year-long streak that has increased prices for wholesalers, retailers and consumers, alike. But as the last few weeks have shown, when several times it appeared the high oil prices were about to come down only to spike up at an even faster pace, there are no guarantees.
The nation's crude oil supply is blamed by some as the reason for the high gasoline prices. U.S. supplies are back over the 300 million bbl mark. Coupled with the news that OPEC overshot its self-imposed quota by more than 2 million b/d, despite promising that it would cut world crude oil production, it may be enough to spook oil traders with "long" supply positions.
The bottom line is, the prices at the gasoline pumps are out of the hands of the consumers. They'll pay what's being charged, or sit home instead.