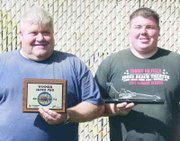 KENT - John Dalrymple and his son, Bubba, found the newly laid surface at Pacific Raceways in Kent this past weekend to their liking.
The father-son duo, who are two-parts of the Johnny-B-Good racing team, won their respective classes at the non-divisional race in Kent. Teammate Wayne Linder wasn't as fortunate, as car problems kept him from participating.
Pacific Raceways just laid down 650 feet of new surface on its track. John said the Kent raceway is where the National Hot Rod Association (NHRA) will hold its national event in July.
The Johnny-B-Good racing team competes in NHRA Division 6, which includes racers from around the Northwest, including Canada. The Kent race didn't go towards the division points or all-star totals, said John.
John won a competitive Super Street class during the weekend competition. John bested 80 cars over seven rounds through a single-elimination process. Dalrymple ran so well over the weekend that in seven of 10 passes he hit his 10.90 index.
The younger Dalrymple won the Super Comp class, despite his car not running in top form. Bubba came out on top of a field of nearly 50 cars, going through six rounds.
John said the pace was rather hectic with both him and his son doing so well. Dalrymple credits the work of Linder and crew chief Bob Ohlde with the success the team had.
"It was a team effort," said John.
Bubba had problems with his throttle stop, which slows the car down during a race. But despite the problems he was still able to blow past everyone he went up against.
"They had a lot of good racers," said Bubba.
"I was really pleased with what we did," added John.
The Johnny-B-Good racing team is sneaking off to Mission, British Columbia Mother's Day weekend for a division race.
. Mike Kantman can be contacted at (509) 837-4500, or email him at mkantman@eaglenewspapers.com