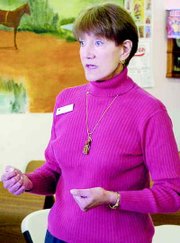 For nearly 100 years the American Red Cross has been on site for disasters as large as the wildfires that ripped through California or as significant as a single family house fire. Despite the size of the disaster or how many people are affected, the Red Cross is there with thousands of volunteers across the country to provide needed services and comfort during times of need.
Judy Burton, emergency services coordinator for the Yakima Valley chapter of the American Red Cross, said the organization is run almost completely with volunteers.
"[It's] through the blood, sweat and tears of people just like you guys," Burton told members of the Sunnyside Kiwanis Club during the organization's Thursday morning meeting.
Burton, who served as the guest speaker Thursday morning, said the American Red Cross started as an organization that offered disaster services, but over the years the organization has expanded its offerings to include teaching health and safety classes, including CPR, first aid and baby-sitting classes.
"These are some of the wonderful things our volunteers do," she said.
Burton said it wasn't until 1941 that the Red Cross started its blood services work. She took time to remind Kiwanians of the importance of donating blood, noting that blood has a short shelf life.
"It's important that we continue to donate blood," Burton said.
Despite the additional duties the Red Cross has taken on over the years, a large part of what the organization does still revolves around providing disaster services. Burton said the Yakima Valley chapter of the Red Cross responds to well over 100 single family fires in the area each year, noting that the Red Cross is typically called to the scene of a fire by the local fire department. She said the fire departments call the Red Cross when they see that a family has no place to go.
"Within an hour we can be there on scene," Burton said, noting that the Red Cross can provide the family shelter for up to 72 hours, clothing and food.
"We provide an umbrella of safety for about 72 hours," she said.
Burton said the Red Cross also responds to disasters such as wildfires, floods, hurricanes and tornadoes, working quickly to set up shelters for displaced families. She said shelters offer people a safe place to stay, noting that shelters typically offer people cots to sleep in, food to eat and a nurse.
"It's something we can open up that provides a home, a safe area to be," Burton said.
It's times like this when the Red Cross can also respond to a request for help for emergency workers on scene at a disaster. Burton told Kiwanis members that the Red Cross can often be called in to provide meals to firefighters on scene at a wild fire, or help bring in drinks to help rehydrate them.
Burton noted that all of the work as far as setting up shelters and responding to different disasters is done by volunteers.
"Everyone is rolling up their sleeves and getting to work," she said.
Burton explained that in a place like Yakima, Red Cross volunteers are organized into disaster action teams, which are teams of people who are on call 24 hours a day for seven days. During that time if they are dispatched out to a disaster they go. In the Lower Valley, Burton said there is a looser style of organization. She said here there is a group of volunteers who when a call is received for help, will call around and find volunteers who are available to help.
Burton said there is currently a need in the Lower Valley for Red Cross volunteers who can be available to respond to single family house fires. She said in the Grandview, Sunnyside area there are currently four or five volunteers who are available 24 hours a day.
"That is the number one need," she said.
Burton added there is also a need for a group to go through training in how to set up a shelter, that way if a shelter is needed in this area there will be a group of volunteers who are ready to take that on.