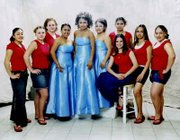 GRANGER- It's Cherry Festival time in Granger this weekend and the festival organizers have lined up three days of fun starting today for the 57th annual event.
Traditionally held the first weekend of May, this year's event will include a parade, live entertainment in the park, an arts and crafts show, a fishing derby and a carnival, according to Berniece Stoops, a spokesperson for the community celebration.
She said the annual Cherry Festival Parade, organized by the Granger Lions Club, will be held at 11 a.m. Saturday morning with judging of entries to begin at 9:45 a.m.
As special part of this year's parade, Granger youngsters are invited to participate in the kids' parade. Sign-ups for the mini parade will be held at Roosevelt Elementary School prior to Saturday morning's main parade. All young parade participants will receive ribbons for their decorated bikes, wagons and costumes.
Stoops said the carnival, which opens tonight (Friday), will be up and running through Sunday at the city park. In addition, concessions and bingo games will be offered in the park throughout the weekend, she said.
As a special feature, Radio KDNA's El Viejito (Old Man) will perform for the children all of Saturday afternoon in the park.
Another special feature at this year's celebration will be the presence of the Lions Foundation's health screening van at the city park all day Saturday. Stoops encourages residents wishing to have their vision, hearing and diabetes checked to visit the van.
Sunday is the date for the annual Granger Fishing Derby to be held at the Granger Pond. Registration for the event, which rewards those persons for catching the biggest fish, begins at 6 a.m.
The fishing contest begins at 7 a.m. and concludes at 12:30 p.m. The entry fee for adults is $7 and $3.50 for children 12 and under.
To qualify, all fishermen must have a valid state fishing license. Cash prizes include $200 for the biggest fish.