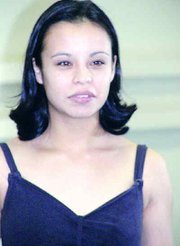 A 17-hour cross country road trip with three small boys would have been enough exertion for most young mothers, but not for energetic Kristine Gimlin of Prosser. She not only made the trip to Denver, Colo. this past weekend, she donned dance shoes to compete against more than 500 hip hop dancers.
Like her fellow dancers, Gimlim was competing for Monster of Hip Hop dance scholarships and other honors at the Colorado contest, held April 24-25. Gimlim, who teaches jazz classes at Sunnyside's Martin School of Dance, earned the right to attend the Denver contest while competing in a national hip hop contest in Seattle last month.
The petite dancer not only competed, she placed among the top 20 dancers performing at the contest. The ranking earned her an invitation to advance to yet another national contest, said Martin School of Dance owner Linda Martin.
Gimlin's employer and mentor, Martin, said Gimlin has been invited to audition at the Monster Hip Hop contest to be held in Orlando, Fla. Aug. 14-15.
Gimlin, who in March was spotted by national talent scouts while dancing at the Westlake Dance Center in Seattle, said the Denver contest was really rough.
"I thought the Seattle Monster contest was tough, but it was nothing like Denver," she said.
"There were a lot of really talented people in Denver and I was really nervous," she said.
"But I didn't give up," said the petite, young woman, who claimed she make it into the top 20 "by the skin of my teeth."
Gimlin auditioned with more than 500 other dancers from around the nation at the Colorado event. She said the top six dancers received scholarships to study dance at the Broadway Dance Center in New York City. Another six dancers earned free air fare and tuition to attend the Orlando dance competition. "The rest of us were invited to try again, she explained.
Gimlim said her ranking in the top 20 dancers at the Denver event gave her a lot of personal satisfaction.
"It means I will be able to attend future contests as a teacher. I'll be able to take my students to the hip hop contests, opening new doors for them," she explained.
"We have a lot of talented dancers here in Sunnyside and I want to help them go to the next level," she said.