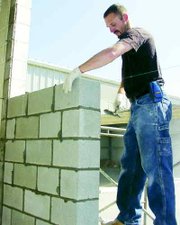 Spring has officially sprung in Sunnyside, with new building projects springing up throughout the community. During March, the Sunnyside Building Division issued 63 permits, which is more than the 55 permits issued in both January and February combined.
One of the 63 permits was issued to Dave Greene for work at 1410 E. Yakima Valley Hwy., which will be the new site for the Sunnyside Tire Factory. The fee for the building permit, which was issued March 19, was $2,494 for the 9,200 square foot project.
Rob Greene, assistant manager for Sunnyside Tire Factory, said work at the new site started about three weeks ago and there has already been a lot of progress made. A concrete foundation was laid for the addition to the old Sunnyside New Holland building, with a large 55-by-80-foot shop being built on top of it. Greene said the shop, which features four bays in the front and another four bays in the back, will serve as the company's tire and mechanical bays. Greene said an additional 35-by-55-foot slab located at the end of the new shop will be covered and used as a place to work on larger trucks.
"It gives us a lot more room," Greene said, noting that their current location at 612 Yakima Valley Hwy. is about half of the size of just their new shop. "This will more than triple our size."
According to Greene, the new shop building was made locally by Canam, with Columbia River Steel working to actually put up the structure.
"We're trying to stay local," Greene said.
When it comes to the original building at the new site, Greene said what Sunnyside New Holland used as the tractor bay will become a place to house new passenger and light truck tires.
At the front of the building, construction work is being done to divide the old sales floor into several new spaces, including a new waiting area. Greene said the waiting area has enough walls around it that people should be able to wait for their vehicles in a quiet, clean location.
"We're trying to gear more toward the customer," Greene said. "This will be so much more attractive for new customers."
He noted that there will also be room for a new coffee maker and a popcorn machine to help make their customers more comfortable.
A new sales desk is also being installed near the front of the store, with a new larger office space being created away from the work area. Greene said the new building also gives them more space to display things like custom wheels and tires and new suspension systems.
Greene said these are services the company has always offered its customers, it's just that their current location is so small that there isn't a lot of room to display the different things they can offer.
"There are things we can do now, but there is no place for displaying it," Greene said.
He said the company is hoping to open the doors at its new location by June 1.
"I don't see any reason why we can't hit that," he said.
So far things have been running smoothly with the building project. Greene noted that the city has been easy to work with throughout the process.
"They did everything in a timely manner," he said.
Other projects that were issued permits in March include two new homes and three manufactured homes. According to Mike Storms, Sunnyside building inspector, there were also several permits issued for rehabilitation projects, including a couple for repairs from fire damage.
Storms said although March was a busy month for the building division, there are still a lot of projects out there that are just getting started.
"We have, right now, five or six new home applications," he said, noting that the city also recently issued a permit for the construction of the footings and foundation for the hotel being built off of Quail Lane.
During March, the city's building division conducted 205 inspections and collected $8,988 in permit fees for projects with a total valuation of $480,050. The permits issued included 38 building permits, 10 mechanical permits and seven plumbing permits, as well as a couple of permits for both deposit street cuts and public works street excavations. One permit was also issued during March for each of the following, a sewer connection fee, a water connection fee, a water meter and a public works permit for curb, gutter and sidewalk.