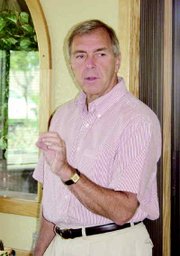 Questions about veterans benefits, renewal energy sources, immigration laws and even voter registration were levied at U.S. Senate candidate George Nethercutt of Spokane, who made Sunnyside a part of his campaign trail this morning.
Nethercutt, who broke a 134- year-old Democratic-controlled 5th District record by unseating then House Majority Speaker Thomas Foley of Spokane in 1994, now has his eye on Patty Murray's Senatorial chair.
Joining the Sunnyside Republican Club for a breakfast meeting at Sunnyside's Sunny Spot Restaurant, Nethercutt drank coffee with a roomful of Sunnyside Republicans, answering their questions while seeking their support in his bid to unseat the two-term Democratic senator.
Saying Murray seems bent on voting "no" on everything passed out of the U.S. House of Representatives, Nethercutt said he wants to help change the balance of power in the Democrat-controlled Senate.
"The Democrats in the Senate seem determined to stop dead anything coming out of the House, whether it is welfare reform, defense spending or medical reform," he said.
He said beating Murray in November could help turn the tide.
"The Senate has adopted an attitude of obstruction," he said.
"Murray is one of the reasons all of the House bills drop dead in the Senate," he added.
"I decided to seek her seat partly because I want to break the gridlock and to get measures passed that will benefit our nation, and state, by creating legal reform, strengthening Social Security and improving benefits to our veterans," he told the Sunnyside club.
In seeking the support of the Sunnyside group, Nethercutt urged the grassroots Republicans to volunteer to help get out the vote.
"Put up yard signs and help get me elected so I can break the standstill," said the Spokane native, who has served in Congress for the past 10 years.
If elected in November, Nethercutt will be the first Eastern Washington senator the state has had serving in the nation's capital in 80 years. Saying he would like to see Republicans voted in from the governor's mansion to the presidency, Nethercutt urged local Republicans to aid in getting the party ticket approved.
"This is a good year to be running," Nethercutt said. "Our ideas are right and it galls me that President (George) Bush and Vice President (Dick) Cheney are being cut by the other side. They are fine, good, decent men and I'm proud to be running with them," he said.
Nethercutt said as a U.S. Congressman, he has supported veterans issues and will continue to do so.
"I have two people on my staff who do nothing but handle veterans issues, from helping the veterans get their medals to medical benefits. I will continue to do that," Nethercutt said.
Saying he knows the importance of agriculture in Washington, Nethercutt said he will continue to work for the best interests of farmers while in the Senate.
Medical reform is a big part of Nethercutt's campaign to get elected. In the past couple of years, more than 350 doctors have left Washington state, he said. He said the reason is because Washington's medical liability insurance premiums are so high and "because our reimbursement rates are so low.
"I've talked with doctors wanting to retire who can't get replacements for their practices. That is something that must change," he said.
He said Murray has repeatedly voted to increase taxes, block welfare reform and changes in bankruptcy laws, issues Nethercutt said the Republicans have tried unsuccessfully to address and improve. "We have to make a change," he said.
"We have to continue to provide for the national defense and for all of the issues before our nation," he said.
Asked if he backs the Central Washington Black Rock Reservoir project, Nethercutt said he is a believer in making wise use of the region's water resources. "Black Rock Reservoir makes sense. We just have to find a way to fund it," he said.
Before getting to the Senate, Nethercutt must get through the Washington state primary, where he is facing four other candidates who are also seeking Murray's Senate seat. Recently, Nethercutt received both the state and national Republican Party's approval as a senatorial candidate.
Nethercutt's backers said he has the best shot at taking the seat away from the senator once called the mom in tennis shoes.
"I had a nine and half point approval rate in May," he said. "And my staff tells me I need a 10 point approval rate by September to win," he added.
"But only 50 percent of the people in the state know me right now," he said, adding that he feels once people get to know him is he is confident he can win.
"It's a very competitive race," he added.
. Julia Hart can be contacted at
(509) 837-4500, or you can e-mail her at jhart@eaglenewspapers.com