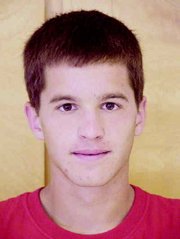 Sunnyside High School ace Danny Plesha has already established himself as a star of the tennis world in the 3A Mid-Valley League. But the Grizzly junior has also carved himself a niche in the United States Tennis Association (USTA) circuit.
Plesha, 16, plays in the Pacific Northwest section of the USTA. Since June, Plesha has captured seven trophies, competing in both doubles and singles play. In the USTA, Plesha plays in a division known as Champs, which features some of the most elite tennis talent in the area.
Plesha jokes he has been playing tennis since he could walk. Actually, Plesha had his interested stirred in the sport by his older brother, Mike. Plesha's parents, Charlie and Alenka, are both very accomplished tennis players in their own right.
"I play for the competition and it is fun," said Plesha. "It is fun to play and it is good exercise."
Tennis is something Plesha hopes will take him far. Plesha would like to be able to grab a scholarship to a Division I college. Plesha may not be too far off from nabbing a college scholarship. He and his older brother, Johnny, have been turning heads at the 3A State tennis tournament every spring in Seattle, where the two have placed in doubles play for the past couple of years.
While Plesha is very versatile in both singles or doubles play, the Sunnyside court standout prefers to go on his own. Plesha said he enjoys trading ground strokes with other players in singles play while doubles involves too much volleying.
Plesha has been a member of the USTA since he was 11.
"You learn how to compete (playing in the USTA)," said Plesha. "There is a different level of competition out there. You have to come out swinging."
Plesha plays in the older Champs division, 16-18-years-old. There is also a Challenger's division, which features the less experienced players on the circuit. Plesha said the Champs division features extremely talented players.
This summer, Plesha has played in tournaments in Ellensburg, Wenatchee, Spokane and Yakima, where he didn't leave empty handed. Plesha said he tries to compete in 10 to 15 tournaments over the summer. Plesha won both doubles and singles titles at all of the tournament sites he has played at so far except Spokane, where he lost with a partner from Olympia in the semi-final round. Plesha teamed with his brother, Johnny, to win the doubles crown in Ellensburg.
Plesha said his best outing was in the singles division in Spokane.
Plesha said he doesn't get much of a chance to play in the offseason on the USTA circuit because of basketball commitments.
In the next few weeks, Plesha will be competing in USTA tournaments in Tacoma, Federal Way and Seattle.
Plesha decided that tennis was the sport he wanted to play when he was 14 years old. He was ranked in the top 15 by USTA in his third season.
Plesha practices twice per day between 90 minutes and two hours. He credits a lot of the success of his game to instruction he received when he was 11 years old from a professional in Yakima. Plesha said much of the improvement in his game, though, comes from being able to play over the summer.
"In the summer you play a lot of people who push you and you get a lot better," said Plesha.
. Mike Kantman can be contacted at (509) 837-4500, or email him at mkantman@eaglenewspapers.com
Danny Plesha