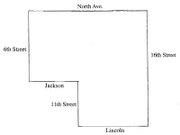 Interested in setting policies when it comes to educating public school children in Sunnyside? If so, there is currently an opening on the Sunnyside School Board.
The local school district is now accepting applications for the position of school board director of district #1. The seat had been filled by Andi Bieber, but she resigned her position last Thursday after only eight months on the job. Bieber is leaving Sunnyside to take a job in Enumclaw.
Applications for Bieber's seat will be taken until Aug. 13. Those residents living within the boundaries of district #1 are eligible to apply (see accompanying map). Candidate interviews are scheduled for Thursday, Aug. 19.
The responsibilities of board members include setting district goals and policies, adopting and revising the annual operating budget, and hiring district personnel on the recommendation of the school superintendent.
Applications or letters of interest for the vacated school board seat can be submitted to district administrators at 1110 South Sixth St.
District #1 map provided by the Sunnyside School District