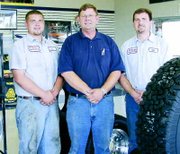 After three weeks in their new facilities, the Sunnyside Tire Factory staff still find themselves glancing around in awe of their new building in the 1400 block of Yakima Valley Highway.
The independent tire store recently moved from a cramped building and service pit at 612 Yakima Valley Highway into a spacious new location just up the street at 1410 Yakima Highway.
The family-owned store has more than doubled in space, according to store owner David Greene, who along with his sons, Rob Greene, store manager, and Dan Greene have provided tire service to Lower Valley customers for nearly 20 years.
"We went from having 3,000 square feet of service space to 10,000 square feet, all under one roof," said the elder Greene, who opened the tire service business in Sunnyside in 1986.
Sunnyside Tire Factory employs 11 people and is now is located on nearly two acres of highway business property, which until last year was home to the Sunnyside New Holland Farm Equipment store.
When New Holland management relocated the farm equipment business to the western end of Yakima Valley Highway, the Greene family saw an opportunity to make their own expansion dreams a reality.
The Greene family has now expanded its facilities while increasing the automotive end of their business.
"We have expanded our services to include more mechanical services, such as engine tune-ups, oil changes and transmission repairs. In addition, we do axle and brake work," David Greene said.
"We didn't have room for these types of services in our old location," he said.
"We also have a beautiful new show room and a very comfortable and attractive waiting room," said Greene's wife, Nancy, who is the store office manager.
Greene said Sunnyside Tire Factory is one of 190 stores which make up the Northwest Tire Factory Corporation.
"Being a part of the larger network of 190 stores allows us to purchase name brand tires, which we are able to sell at competitive prices," Greene explained.
"Now in our new location we are able to offer even more services to our customers in addition to great tire sales," he said.
"We can now serve our customers more efficiently and in much more comfortable surroundings for them and our staff," he said.