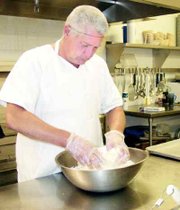 Some may be shocked to learn the amount of money jail trustees are saving local taxpayers.
The state Jail Industries Board recently released 2003 figures that show how much money is being saved by using prisoners on work projects in various communities.
Residents in Sunnyside are seeing a vast savings in tax dollars from the use of jail trustees.
In 2003, jail trustees in Sunnyside saved local taxpayers about $416,000. This figure is calculated using a pay rate of $7.01 per hour. Jail trustees worked nearly 60,000 hours last year doing various odd jobs at the local jail and around the community.
Sunnyside Police Captain Phil Schenck said the Sunnyside jail not only uses local trustees, but prisoners they house from other jurisdictions. Sunnyside prisoners find becoming a jail trustee a benefit because their time accrues faster, said Schenck. He used as an example that if a prisoner had a 30-day sentence, they can be out in half that time working as a jail trustee.
"We see this as a valuable resource," said Schenck.
The main rule in determining who qualifies to be a jail trustee, said Schenck, is to ensure they are no threat to the community.
"They have to be non-dangerous," said Schenck. "Typically, it is minor violators (we use as jail trustees). We have to feel good about allowing them to be a trustee."
Schenck made it clear, though, that the community will never see trustees working out in the community who have committed such violations as sex offenses or robberies.
Prisoners go through a thorough screening, said Schenck, to ensure they are no risk if allowed to be a jail trustee.
Sunnyside Corrections Officer Andrew Gutierrez said usually the department never likes to use more than four to six trustees at a time because it allows for better control of the prisoners. Gutierrez said he usually likes to have two trustees working around the jail and four out in the community.
Schenck said the range of work jail trustees perform varies.
"We have a wide range of people coming in here," said Schenck, who added each have different skills that can be utilized.
The trustees perform duties ranging from working in the kitchen, cooking food, cleaning the jail facilities, ground maintenance, washing police cars and working with different departments within the city.
Schenck said the trustees are moved around constantly to avoid any possible problems with friends or others knowing where they might be for the day. Schenck also said it is made clear to the trustees that they are not allowed contact with the community.
"They are there to work," said Schenck.
Besides getting out of jail at a quicker rate, there are incentives for jail trustees, said Gutierrez. The trustees get other living arrangements than the other prisoners and other incentives. Gutierrez said one of the more simpler incentives is the ability to be outside and not locked in a prison cell.
Gutierrez said jail trustees are held to strict accountability. He said there is a list of requirements that trustees have to adhere to be part of the program. Schenck added that the list of requirements is so stringent trustees have to follow that it includes such items as making sure the remote control is in the right place.
Trustee work is not easy, said Gutierrez. Trustees can work up to 12 hours per day, performing strenuous labor.
There is an obvious financial benefit to using trustees for work projects. Schenck said several areas of the city, especially the police department grounds, would not look like they do if trustees weren't used. Schenck said it would be unlikely the city would be able to hire additional employees to perform the duties a trustee does. Sunnyside uses jail trustees year round.
Schenck also said there is a benefit for the trustee. Schenck has had several employers call him because a trustee has used him as a reference.
"This (the trustee program) is a benefit to them and us," said Schenck.
In neighboring Grandview, the use of trustees saved local taxpayers $34,540 last year. Trustees in the Grandview Police Department worked 4,927 hours.
Grandview Corrections Officer Cynthia Helberg said when selecting trustees, the staff tries to look at their criminal history to see what sort of threat a prisoner may be in the community. Helberg said serious offenders are never used in the trustees program.
The Grandview jail utilizes trustees about 75 percent of the year.
"We just don't get enough of them," said Helberg. "We would like to have them working all the time."
Once selected, trustees go through an orientation process to see if they meet the requirements of being a trustee.
Trustees in Grandview, who could be serving anywhere from five days to one year, get a day off their sentence for every day worked. Helberg said there have also been cases where trustees have been exemplary and gotten additional time taken off their sentence.
In Grandview, trustees work around the jail, cleaning the facility. Trustees wash and maintain city vehicles. Trustees, said Helberg, are also greatly used by nearly every department within the City of Grandview.
Trustees in Grandview can be identified by their outfits, which are the old black and white chain gain uniforms.
There are several incentives for trustees. Trustees, said Helberg, get their own space to use when available at the jail and they also get to spend a lot of time outside.
Helberg said the program works for the City of Grandview because trustees do a lot of what city staff is unable to finish. Helberg used her position as an example. She said she would never be able to handle dispatch and cook lunches at the same time if it wasn't for the use of trustees.
"It saves times for employees to do more," said Helberg.
Helberg feels the program not only benefits taxpayers, but the trustees, as well.
"I think it kind of teaches them some job skills and dedication," said Helberg. "There is a benefit for them."
The trustees program for the Yakima County Corrections Department saved taxpayers about $2 million in 2003. County trustees worked 290,730 hours.