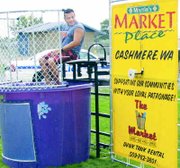 Lower Valley residents gathered at the Sunnyside Law and Justice Center Monday evening for the annual National Night Out kick-off party.
The celebration, which included large inflatable toys, food and games, was a warm-up for tonight's neighborhood celebrations that will be held throughout Sunnyside.
Sunnyside Police Chief Ed Radder said he was very pleased with the outcome of last night's community celebration.
"The public provided us with a large outdoor area and it hasn't been fully utilized until now," he said.
The idea to move the kick-off celebration from SunnyView Park to the law and justice center came about earlier in the year as a way to have the people in the community interact more closely with the police department, which is part of the ideal behind National Night Out neighborhood block parties. The parties are designed to introduce neighbors to each other in hopes that they will be able to prevent crime in their neighborhoods by watching out for each other.
Radder said having the kick-off event at the law and justice center allowed local police officers to interact more closely with those attending the party. Tours of the building were even allowed upon request.