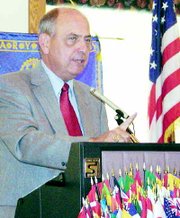 Threats of terrorist attacks on American soil are once again filling the airwaves. Monday, the seriousness of the current situation was brought home through the comments of Central Washington Congressman Doc Hastings, who was the guest speaker at the Sunnyside Noon Rotary Club meeting.
Hastings, who is seeking another term in Congress, urged the Sunnyside businessmen to continue to take the most recent terrorist threat seriously.
"They don't play by the same rules as we do. We only recently have come to understand the full gravity of their hatred for us," he said.
Addressing his comments to the recent release of the 911 Commission's report, Hastings said prior to the Sept. 11 terrorist attack on U.S. soil, Americans didn't understand what was going on in the world.
Even after the tragedies at our embassies around the world and other attacks on the Towers and the USS Cole, we simply didn't understand what was happening out there, he said.
"I think we have a better understanding now and know we have to be vigilant," he said.
This week's warnings of possible attacks on American banking centers has again caused the validity of the 911 report to be put into question. "But we can't take this threat for granted. We have to be prepared," Hastings said.
"We are in a war and it is not one of short duration," he told the Rotarians. "We hope we won't be attacked again, but the reality is that we are in a presidential election year. We have to assume we might be attacked again," Hastings said.
"We would rather engage the terrorists on their own turf rather than have them hit us here," he added.
Hastings said President Bush intends to name a separate commission which will join the nation's intelligence collecting agencies in order to more fully share critical information concerning national safety.
"We found after 911 that while the FBI had certain information concerning terrorist activity and the CIA had information of unrest, the two agencies were not sharing that information," he explained.
"That has to change," he stressed.
Hastings, who said he plans to support the reissuance of the Patriot Act, said he will also promote a strong balance of checks and balances which were implemented after 911.
"We have to now have stronger control over the nation's intelligence agencies, but we also need to allow them to collect information which will protect our country's safety," he said.