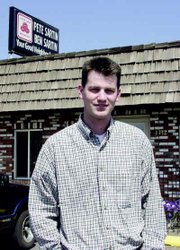 There is a new face at Ben Sartin State Farm Insurance at 1112 Yakima Valley Hwy. in Sunnyside. For the past month, new life and health specialist Sam Smith has been learning the ropes at the local insurance office.
Smith, who previously owned Twigs with his brother, just recently went through the process required to work in the insurance field. Smith said it took him about two months to finish a variety of tests through both the Washington state and State Farm Insurance.
Although the insurance field is something new for Smith, it is not something that is unfamiliar to him. He noted that he has several relatives who are insurance agents.
"They recommended me to State Farm," Smith explained.
After Smith finished the required testing, he said he crossed his fingers, hoping he would be able to find a job in the Lower Valley.
"I got lucky and found a job in Sunnyside," Smith said.
Smith said he is currently qualified to sell all of the life and health products that State Farm Insurance has to offer. He said he enjoys this portion of the business, because it means helping families to ensure that they are financially set.
"No matter what happens in their life, they are set," Smith said.
Although Smith is currently qualified to offer clients health and life insurance products, he is hoping to continue his education in the field of insurance. Smith said he would like to one day be able to work as an agent.
Smith, who was born in Prosser then moved all over the world during his childhood due to his father's job, was brought back to the Yakima Valley two and half years ago. He explained that his grandmother owned a building on Lincoln Avenue and was getting ready to sell it. Instead, Smith and his brother decided to open up Twigs and utilize the building themselves.
Smith said his brother then decided he was going to move to Battleground and wanted to move the business with him.
"I like this area...it just wasn't the right time to leave," Smith said when asked why he didn't follow his brother.
Smith is married to Stephanie and together they have three children with another one on the way.