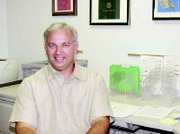 The Lower Yakima Valley is not a new and strange place to Gary Vegar.
Recently hired as Sunnyside School District's Executive Director of Learning and Instruction, Vegar is a former Prosser resident.
In fact, his father taught school in the Prosser School District for 34 years before retiring to Camano Island. Ironically, Vegar is moving back to the Yakima Valley from Camano Island, where he was the principal at the Camano-Stanwood School District high school for the past nine years.
"My wife's family is also from Prosser," he added. Long-time Prosser area farmers, her parents recently retired to Arizona, he explained.
Vegar began his new duties Monday by settling into his office at the Sunnyside School District's Instruction and Support Services office, located in the Denny Blaine building on Custer Avenue.
Vegar said making the move from being a building principal to the overseer of a district's network of learning and instructional activities was too good to pass up.
"I wanted to be in a position to serve teachers, administrators and students in a different way," he said.
Vegar expects to suffer some form of withdrawal come the first day of school. "This will be the first time in 23 years that I will not be in a school building," he explained.
But, eager to begin his work on the district level, Vegar brings a wealth of experience in school law, and a background in education reform.
"I've worked on education reform in Oregon, Hawaii and Washington," Vegar said. "I believe I have the talents for this job," he said.
Vegar, who is a graduate of Eastern Washington University, earned his Master's at the University of Hawaii. He is now working on his doctorate.
Vegar began his career in education as an industrial technology and electronics teacher. He has also worked as an athletic and activities director, taught college level classes and most recently taught school law at the Anitoch University in Seattle.
Saying he hopes to bring a sense of balance to the Sunnyside School District learning environment, Vegar said his biggest task will be focused on taking care of the students.
Vegar said his job is to provide students with the tools necessary to meet the state-mandated assessment standards. Despite the current unrest among school districts regarding the Washington Assessment of Student Learning (WASL) and the mandated Certificate of Mastery required of all students before they are allowed to graduate, Vegar said the Sunnyside district will continue to do everything it can to help students and teachers meet that goal.
Vegar said the reality is that the WASL and the Certificate requirement is the law. While the politicians deal with that issue, he will be making sure Sunnyside students have all they need in order to meet the state standards, he said.
"We take this very seriously," he said.
Vegar said he is charged with making sure there is improvement in student learning each year, an issue made even more important in light of the implementation of President George Bush's "No Child Left Behind Act."
"We also have to be accountable to the federal government for showing that our students are making academic progress," he said.
"We have to show yearly academic progress," he said, noting that the district has several assessment tools at its disposal for judging progress.
Vegar said the students' academic improvements are gauged by three assessment tools, including the Iowa Test of Basic Skills, the Iowa Test of Educational Development and of course, the WASL.
"I think also we have to remember that education goes deeper than testing, even though we do have to meet the letter of the law," he said.
To do that Vegar hopes to be able to maintain a balance between the No Child Left Behind mandates and the new state graduation requirements, while taking care of the children's needs.
"I realize that is a tall order," he said.
"But it is what we are going to do," he said.
"We just have to keep things in perspective," he said.
"Our first job is always to take care of kids. We have to give kids experiences in academics, activities, athletics, arts and citizenship," he said. "All of those experiences are needed to help prepare our kids to become contributing adults and good citizens," he said.