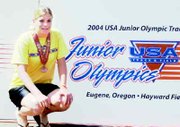 EUGENE, ORE. - Annie Hess, who will be a senior at Bickleton High School this fall, made quite an impression at the National Junior Olympic Championships in Eugene, Ore., last week.
On Thursday, July 28, Hess competed in the young women's division, which features 17-18-year-old participants. The National Junior Olympic Championships took place at Hayward Field on the University of Oregon campus.
During her outing on Thursday, Hess threw a career best 38-2-1/4 in the shotput to place eighth. Hess entered the shotput seeded 18th out of 37 participants. Hess received a medal in the shotput for her eighth place finish.
The following day, Hess made her second trip to the podium by placing fourth in the discus with a throw of 134-3. Hess was only four inches behind the third place participant.