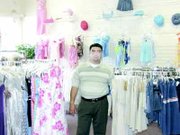 Juan Pascual's wife, Claudia, likes shopping. So in an attempt to keep his lovely wife out of the stores, Pascual joked that he decided to open Jireh Boutique in Sunnyside to curb his wife's shopping habits.
"Actually, I supported an idea she had," said Pascual.
Pascual opened Jireh Boutique the end of June at 638 Decatur Avenue. The store caters to both young ladies and older women with some of the latest fashion clothing and accessories on the market.
Pascual, who works for a money wiring company, said it has long been a dream of his family to open their own business.
"I travel a lot," said Pascual. "I see that other businesses are successful. Why can't we do that."
Pascual has lived with his family in Sunnyside for about 14 years. He wanted to keep his business in Sunnyside because he believes in the area.
"I believe Sunnyside has a strong potential," said Pascual. "I have seen how Sunnyside could do better."
Pascual will be expanding his business soon to serve weddings and quinceaneras. Pascual also plans to place a money wiring service in his business, as well.
Things have gone well so far for Pascual and his family since opening their business in late June.
Jireh Boutique is open Monday through Saturday from 11 a.m. to 7 p.m.
Pascual is excited about his family's business future in Sunnyside.
"We are hoping we can expand," said Pascual.