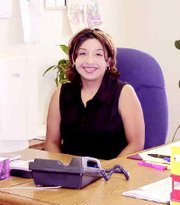 Taking on a new job where everything is new, from the type of work you will be doing to the computer programs you will be working with, is enough to intimidate a lot of people. However, Sandra Aparicio is not one of them.
When Aparicio took her position as operation assistant for the Port of Sunnyside two years ago she was not familiar with the different Department of Ecology regulations, water samples that are taken and data input that goes on every day at the Port of Sunnyside industrial wastewater treatment plant. But that didn't stop her.
Aparicio, who previously worked as the administrative assistant for the Lower Yakima County Rural Enterprise Community, said the one reason she took the position was because she was familiar with the people she would be working. Aparicio explained that during the time she worked for the Rural Enterprise Community it was housed at the Port of Sunnyside office in downtown Sunnyside. She said over time she had gotten to know many of the people associated with the Port.
Aparicio said her daily duties at the Port's industrial wasterwater treatment plant along Midvale Road include a lot of work with spreadsheets and data input. She said she inputs data from the lab work that is done in the office and creates discharge monitoring reports. She noted that there is a lot of data the is collected in regards to the plant, data that ultimately passes through her hands and into the computer.
According to Aparicio, some of the common tests performed at the plant include looking at nitrate and fluoride levels in the water, keeping tabs on the amount of water being utilized by those businesses that use the wastewater treatment plant and noting how much water comes into the plant.
Aparicio said she learned a lot coming into the position, including information on the role the Port of Sunnyside plays in the community.
"I've learned so much working with the Port," Aparicio said, noting that she has also had a chance to work with the Sunnyside Chamber of Commerce and Sunnyside Inc.
Working with these different agencies has also given Aparicio a chance to get involved in the community. She most recently volunteered to help during the Chamber of Commerce's three-on-three basketball tournament.
"I like the idea that I can participate and know who to talk to in order to be involved," Aparicio said.
Aparicio is a Granger High School graduate who was born in Sunnyside. She said she decided she wanted to come back to Sunnyside because this is where she wanted to raise her two daughters, ages three and six.