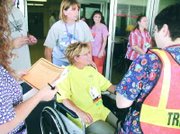 Tuesday morning, Sunnyside Community Hospital medical personnel were dealing with the results of a bus-truck collision, with staff members responding as each new patient made their way through the emergency room doors.
However, the accident and the patients were not real. The staged "accident" was a way for Sunnyside Community Hospital to implement the facility's disaster plan, ensuring that in case of a disaster staff members are ready to respond.
Tom Lathen with Sunnyside Community Hospital said the drill involved more than 50 staff members, and a myriad of a pretend patients. He said the entire drill took place on hospital property, with the "patients" waiting in the hospital parking lot along 11th Street for their turn to walk into the emergency room. Lathen explained that the patients were sent into the hospital at different intervals to simulate what would happen in the event of a disaster. He added that some patients walked in, while others were transported via an old ambulance.
Lathen said the drill helps test how quickly hospital staff can respond in case of disaster.
Lathen said the drill went really well. He noted that in a debriefing following the disaster drill, the general consensus was that it was one of the best drills the hospital has ever responded to.
Disaster drills, like the one done earlier this week, are required for state licensing and accreditation from the American Osteopathic Association.