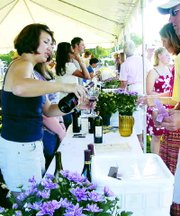 PROSSER - Want to sample some Singing Toad Late Harvest or Risky Business Ice wine?
Then visit the Maison de Padgett Winery tent at the 23rd annual Prosser Wine and Food Fair, to be held Saturday, Aug. 14, from 3 to 9 p.m., at Art Fiker Stadium.
New to the annual summer wine and food festival, Maison de Padgett Winery will be joined by Mt. Baker Vineyards, which will be serving its Voignier and Late Harvest Viognier wines.
The two wineries will be among 32 wineries featured at the "grandfather" of all Washington outdoor wine events, according to wine and food fair organizers.
This year, wine enthusiasts can look forward to sampling the wines from several other new wineries, as well. Also new to the annual fair will be Alexandria Nicole, which will feature a 2001 Syrah and a 2003 Viognier. Making a first time appearance at the fair will be Cave B Estate Winery, which will be serving up its 2002 Cave B Chardonnay and Angelo's Merlot. Another newcomer to the fair will be Don Quixote Wines with 2002 Riesling and 2002 Gerwurztraminer.
These wines along with many others, including Cabernet Sauvignon, River Mist, Drop Dead Red and Blue Franc Lemberger, can be enjoyed and paired with a variety of foods available on the grounds that day. This year there will be 17 food vendors to share the stage with the wineries. Fair-goers can expect to find everything from German Sausage to Raspberry Sorbet. Catering by Cathleen is among the new vendors this year, and will be featuring a Tuscan creme cheese spread on a baguette and summer spinach dip with black baguette. For something a little more unusual, try the lamb burger salad served by Alexandria Nicole.
Once again this year, the Yakima Valley Dairy Women will tempt fair-goers with their mini cheesecakes, and the Kennewick Lions Club will offer shrimp cocktails and deep fried mushrooms.
For 23 years, the Prosser Wine and Food Fair Board of Directors has given every winery in Washington a chance to participate in the popular fair, said Susan Webber, board president.
"We send out invitations to all the wineries in the state and the first 32 wineries to respond are the wineries we see at the event," she explained.
"This event is very advantageous for the new wineries in the state. It serves as a venue to have thousands of people sample and purchase their wine, then spread the news about their wine," Webber explained.
The wine and food fair board's goal has always been to promote the wineries in Washington State, she explained. "We have succeeded in doing that over the past 23 years," she said.
Tickets are now on sale at the cost of $15, which includes script and a souvenir glass. To purchase tickets call the Prosser Chamber of Commerce at (509)786-4545 or 1-800-408-1517. Tickets are also available at Tucker Cellars on Yakima Valley Highway in Sunnyside.