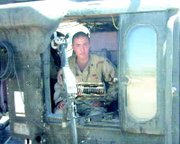 Pictures of humvees rumbling through neighborhoods, soldiers dressed in fatigues surrounded by young children and palace-like buildings stripped of their elaborate decorations. These are the sights that greeted Dana Ortiz and her family.
Sunday afternoon, Sgt. Gustavo Ochoa of Yakima, drove from Yakima to Sunnyside to drop off a DVD full of pictures for Ortiz, her husband Rudy and her daughters Jennafer and J. Ann. The pictures are from Ortiz's son, Spec. Nicholas Ortiz, who is currently stationed in Baghdad with other members of his Army National Guard unit.
Ortiz said this is the second DVD full of pictures her son has sent home since he was stationed in the Middle East this past March.
Ortiz said every time she has received a DVD from her son, she has been excited to see what types of things he has included on it. She said it's been interesting to see what life is like both for the soldiers in Iraq and the people living in the country. The DVD also gives Ortiz a chance to see her son. The DVD includes pictures of him sitting in a humvee with a large rifle, standing in a deserted street surrounded by Iraqi children and standing out in front of a large palace-like building that stands tall against the desert landscape.
Ortiz said her son first enlisted with the National Guard in April 2001, near the end of his freshman year at Washington State University.
According to Ortiz, the military is something her son always seemed to be interested in. Remembering back, she said when he was younger he could often be found dressed up in fatigues, playing in the backyard.
Ortiz said it wasn't until November 2003 that Nicholas was pulled out of school and sent to Spokane for a couple of weeks. She said he was then shipped off to Fort Lewis until February, when he was sent to California to the national training center for airmen. Ortiz said in March, her son was sent to Kuwait.
"He's been in Baghdad since then, almost five months," Ortiz said.
Despite being stationed almost a world away, Ortiz said Nicholas stays in regular contact with his family. She said every two or three days he e-mails the family, and tries to call once a month.
Although she hears regularly from her son, Ortiz said knowing he's in the middle of war she finds herself praying a little more. She noted that the frequent e-mails and the phone calls do seem to help relieve a little of the stress.
"He sounds really good when we do talk to him," Ortiz said.
At this point, Ortiz said her son is expected to come home sometime early next year.
According to Ortiz, Nicholas is within 10 credits of graduating from Washington State University with a degree in criminal justice. She said he wants to work for the Washington State Patrol, something his girlfriend is also hoping to do. Ortiz said Nicholas' girlfriend is currently undergoing training in Olympia.
Ortiz's son isn't the only member of the family who is in the military. Her daughter, Jennafer is also in the Army National Guard. Jennafer added that her grandfather served in the military, as well as several aunts and uncles. She said she currently has a cousin who is stationed in Germany.