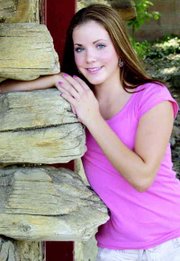 Given her small physical stature, one could be a little taken back by Miss Sunnyside candidate Jamie Durbin's intent on wanting to argue in a courtroom some day. But, making a living as an attorney is exactly what the 16-year-old Sunnyside Christian High School junior wants to do.
However, Durbin won't be arguing when she takes to the stage for the Miss Sunnyside pageant Saturday, Sept. 18. Durbin is one of eight young ladies who will be vying for the title of Miss Sunnyside as part of the annual community Sunshine Days festivities.
Durbin is the daughter of Bill and Dolores Durbin of Sunnyside. She is being sponsored in this year's pageant by National Gas Company and Van de Graaf Ranches.
This past summer Durbin began working at National Gas Company.
At school, Durbin is involved with numerous activities, including volleyball, basketball, Honor Society and Future Farmers of America. But cheerleading is something that has grabbed the attention of Durbin.
"Being a basketball girl, I didn't think the cheerleaders worked that hard," smiled Durbin. "I have been proven wrong. It is a lot of hard work to be a cheerleader."
Durbin also has another passion she enjoys and that is playing the piano. About nine years ago, Durbin learned the art of the piano from her sister, Jodi Nordberg.
"She always played the piano," said Durbin. "I like playing the piano because it is a really good stress reliever. It is cool to be able to do something really well."
Durbin will be performing a piano solo in the talent portion of the Miss Sunnyside pageant.
When she is not cheering on the home team or trying to master Mozart on the piano, Durbin stays busy with her youth group at the Sunnyside Christian Reform Church. She also enjoys spending time with her family and has taken up the aerobic workout of kickboxing. She is also an avid reader of classic novels and enjoys walking on the pathway and shopping.
Durbin has also taken up learning the language of love, French. Durbin said she has become versed enough in French to order a dinner, but isn't so fluid in the language she can carry on a prolonged conversation. Durbin said she has a dream of being able to tour Europe, which would include a stop in Paris.
Durbin said she decided to compete for the Miss Sunnyside title because she viewed it as a good way to become involved with the community.
"I thought it would be a good way to give back to the community I have grown up in my whole life," said Durbin.
Durbin does have one momento from her childhood she is hoping will bring her good luck. When she was 3-years-old, Durbin went to one of the parades and then reigning Miss Sunnyside, Mary Mercer, gave the young spectator one of her gloves.
"Maybe it is a good luck charm," said Durbin.
So far, preparing for the Miss Sunnyside pageant has been an enjoyable experience. Durbin said all of the contestants have gone shopping together and went to the Miss Tri-Cities pageant.
"It has been a blast," she said.
After she graduates from high school, Durbin wants to study law at the University of Washington.
"I think justice is really important. I want to make sure people get what they deserve," said Durbin. "I am opinionated. I like to argue."
If Durbin is named to the Miss Sunnyside Court, she would like to make working with the Lower Valley Hospice organization her community service project. She wants to work with the hospice agency because she knows what it is like to have a family member suffer with cancer.
"I know how much a family needs encouragement at this time," said Durbin.
Durbin said she enjoys living in Sunnyside because of the small, friendly size of the town.
"When you drive through town everyone is really friendly and willing to help you out," said Durbin.
Durbin did say she wishes there was more to do here.
"I think there needs to be more things to do on the weekends for teens," said Durbin. "We need to do more community events like the Fourth of July."
Besides working with Hospice, Durbin would like to become involved in a project working with children if she is named to the Miss Sunnyside court.
One of her other goals as Miss Sunnyside will be to work with her court to help make Sunnyside a better place to live.
Durbin said as Miss Sunnyside she would strive to serve as a good role model for the younger children in the community, who look to Miss Sunnyside in admiration.
"I would like to be a good role model to all the younger girls around," added Durbin.
Durbin said she is looking forward to this year's Miss Sunnyside pageant.
"I think it will be a lot of fun," she said. "The talent will be real diversified."
Durbin said she is looking ahead with hope at the opportunity to possibly serve on the Miss Sunnyside court.
"I would be very honored to be on the court because it is a privilege," said Durbin.