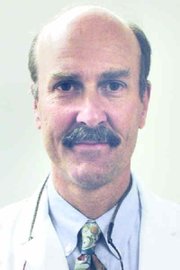 After being in private practice in Sunnyside for nearly 20 years, internal medicine specialist Dr. Coke Smith of Sunnyside will be stepping away from his private practice to be Sunnyside Community Hospital's full time medical director.
The position is not a new one for Smith, who has been the medical director at the hospital for the past several years, according to Tom Lathen, Sunnyside Community Hospital director of public relations and physician recruitment.
Smith plans to begin his new duties as of the first of September when two new doctors will take over his Valley Internal Medicine Associates practice at 1000 E. Edison Ave., Lathen said.
Last month, Smith issued a letter to his patients announcing his decision to work full-time as the medical director at Sunnyside Community Hospital. In addition, he will be serving as a hospital-based physician, but will remain on call for internal medicine cases.
In the meantime, Drs. Sandra Wilson and Ellen Ang will take over the Valley Internal Medicine Associates office.
Smith said he made his decision following the loss of two doctors who also specialized in internal medicine. Smith noted that last year, Dr. David Anderson's automobile accident injuries prevented him from returning to his practice, which was located in Smith's East Edison Avenue building.
In addition, Dr. Bryan Smith has relocated his practice out of the area. Lathen has been on a search to find replacements for both doctors.
Smith said his patients will now be seen by Dr. Sandra Wilson, who previously worked with Smith's patients during a part of her residency. He assured his patients that Wilson is an excellent and personable physician.
He also praised Ang, saying she is well trained. She recently completed an internal medicine residency in New Jersey.
Joining Smith at Sunnyside Community Hospital as a full time hospital-based physician will be Dr. Francesco Vinci, who was recently hired for the new position. He will begin his duties in September.
The shift in how medical care is delivered at Sunnyside Community Hospital is expected to make medical attention more efficient, said Jon Smiley, hospital CEO.
Smiley said as a result of having doctors based at the hospital, patients will receive immediate internal medicine consultations in the emergency room as needed. In addition, patients will receive more medical consultations prior to surgeries by the hospital's physicians, he added.
"Plus, our family doctors will be able to rely on Drs. Smith and Vinci for consultations with their patients who are hospitalized," Smiley said.
"We should also see more patients in many areas of the hospital as our two private practice internists begin to build their practices," Smiley added.
More like this story