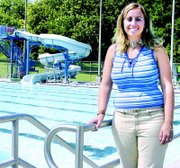 Elementary education major Rachel Riojas learned of her desire to work with youth as a teenager working at the city pool.
Riojas, who will be a senior at Heritage University this fall, is the summer manager of the Sunnyside pool.
The 2001 Sunnyside High School graduate grew up in Sunnyside and Granger.
"I started in Granger as a lifeguard when I was 15," she said. "It's pretty much the only job you can get as a 15-year-old. I also knew it would be a good summer job."
As a former swim team member, getting a job as a lifeguard made sense to Riojas.
"Teaching swimming lessons my sophomore year in high school is what made me decide I wanted to work in elementary education," she added.
This year marks the sixth season she has worked at a swimming pool, and is the second year she has been manager.
She oversees the staff of 30 employees at the pool, which provide safety to youths and adults looking for a place to escape the heat.
"I watch the lifeguards and make sure they are guarding correctly," said Riojas, who added that she is also in charge of counting the tills and making out the schedules.
She is also trained in first aid and CPR, so she can provide help in emergency situations.
"I pretty much oversee every aspect of the pool," she said.
If a lifeguard doesn't show up she has to find a replacement and if there is an incident or emergency situation, such as last week's lightning storm, Riojas is called and asked proper procedure in handling situations.
As the pool manager Riojas said she has to maintain her certifications in CPR/first aid, as well as life guarding. She is also a certified water safety instructor.
When she was younger, Riojas tested for her water safety instructor certification, which she also maintains.
"The first year I taught swim lessons just because they didn't have enough instructors," she said. "I wanted to be sure I would be able to teach lessons, so I got my water safety instructor certification."
It was those years of teaching swimming lessons that helped her realize her desire to work with children.
With all of her certifications, Riojas doesn't spend much time working on the pool deck.
"I don't guard on a regular basis," she said. "There's just too much going on to lifeguard as well."
Although she doesn't regularly act as a lifeguard, she said that she does fill in on occasion.
Riojas believes that swimming pools are an asset to all communities.
"I was really sad when they covered the Granger pool with dirt," she said. "It was pretty much the only recreation for the kids in that community. Swimming pools provide something for kids to do in the summer that are fun and safe.