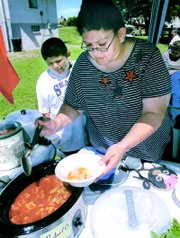 GRANGER - A giant ladle, along with $200 in cash, were presented to Lupe Castro of Granger after her large crockpot of a spicy Mexican soup was deemed the best at the first annual Washington State Menudo Cook-off held in Granger this past Saturday.
Castro's menudo, which is made of a combination of chile, hominy, spices and tripe, was among 10 recipes entered in the Granger Chamber of Commerce's first ever menudo cook-off.
Granger cooks of all ages gathered at the Granger City Park to compete for cash prizes and to claim bragging rights for making the best menudo . Castro was also awarded a trophy. But the ladle was her surprise award, explained Hulbert. The ladle, inscribed with Washington State Menudo Cook-off 2004, was created by Vince Castro of Wizard Graphics of Granger.
"We had 10 contestants enter their recipes in our menudo contest," said Judy Hulburt, a Chamber spokesperson. Her husband, Carl, and Gracelia Valencia were the chairs for the cook-off, which was organized to celebrate the Yakima Valley's rich Hispanic/Mexican culture.
Menudo is a popular soup which is typically served with lemon slices, onion, oregano and avocado, which add to the flavor, explained Hulbert. Warm tortillas are also served with the uniquely Mexican dish.
Juana Ibarra of Sunnyside was the first place winner in the junior cook-off division. She received a Granger Chamber of Commerce t-shirt and plaque for her award winning entry.
Earning second place in the adult division was Isabel Martinez of Granger, who received a $100 cash prize. Third place went to Teresa Cardenas, who received a $50 cash prize, and Teodora Delgado, also of Granger, was the fourth place winner of $25. All winners received a t-shirt.
Judges for Saturday's event were Guadulupe Sotelo of Radio KDNA, Granger City Councilman Ernie Guerra, Yakima County Auditor Corky Mattingly, Sunnyside City Councilwoman Bengie Aguilar and Bernie Jaramillo of the Washington State Migrant Council.
"The judges took their job very seriously," said Carl Hulbert.
He said the judges sampled each entry twice. "We also had four Granger School District students helping with the judging," he said.
"We were very pleased with the contest and plan to do it again next year," he added.
In addition to the contest entries, the Granger Chamber of Commerce members cooked up six pots of menudo, which they had on sale, along with 10 dozen ears of fresh corn. "We sold out," said Hulbert.
He said proceeds from the contest entry fees and the menudo sales will be used to held fund the city's new aquatic center.
Later in the day, following the cooking contest, entertainment was held in the park for an estimated 200 people who attended the fiesta-style event. In addition, the Yakima County Auditor's office had one of its new voting machines set up in the park for demonstrations.