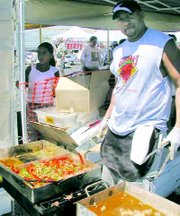 With a new location slightly to the east of the former Maple Grove location, the Guerra family's Chile Festival still attracts more than 1,000 chile lovers to their two-day event.
From spicy plates of the Guerra's specially seasoned fajitas to pepper decorating contests, all the elements of the previous nine festivals were brought to the festival's new location at 6000 SR-241, six miles north of Sunnyside this past weekend.
Several hundred feet above the Yakima Valley floor, the festival now not only offered great food to festival-goers, but a panoramic view of Sunnyside.
Hosted by Lino and Hilda Guerra and their family, this year's outdoor fiesta also included a tree planting contest, as well as music and salsa-making demonstrations.
"We're excited to be in our new location," said Hilda Guerra. She said the long-time family business will soon be spread out over the 71 acres of the Rattlesnake Hills, located just off SR-241. The couple has been hosting the unique chile festival event since 1994. The two-day event usually coincides with Hilda's birthday, which is the first of August.
"What a great birthday party, right?" she grinned.