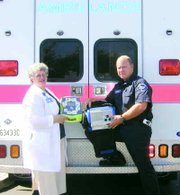 PROSSER - A recent donation to Prosser Memorial Hospital will make it possible for the facility to purchase 11 new defibrillators, helping the local hospital standardize the care received by patients experiencing cardiac problems.
The $70,000 donation from the Whitehead Foundation will help the hospital purchase 11 new Zoll defibrillators. The purchase includes five Zoll biphasic defibrillator monitors and six Zoll automated external defibrillators (AED). The addition of these new monitors will ensure that state-of-the-art defibrillators are accessible to staff in the main patient care areas of the hospital, including surgical services, medical surgical services and emergency services.
Medical staff will be able to perform defibrillation during a cardiac event using the new biphasic defibrillator monitors. These monitors are capable of monitoring oxygen saturation, blood pressure, heart rhythms and even short term heart pacing. These features will allow the hospital's medical staff to accurately monitor and address a patient's cardiac activity to effectively determine their condition and immediate medical needs. The monitors will be located on site within the medical/surgery and emergency departments, as well as the surgery center. Two monitors will also be used onboard ambulances for use on medical emergency calls.
The six AED units will be used by anyone trained in basic CPR. An AED is a portable device that analyzes the heart's rhythm and, if necessary, allows a rescuer to deliver an electric shock to a victim of sudden cardiac arrest. This shock, called defibrillation, may halt the rapid and chaotic heart activity of sudden cardiac arrest and help the heart to re-establish an effective rhythm of its own. The units are valuable in situations where a nurse or doctor is not readily available. The new AED units will be located throughout the hospital's facilities in cardiopulmonary, out-patient therapy, home health, surgery center, transitional and long term care, and the Whitehead Business Center. All hospital staff are trained in CPR and the use of these AED units.