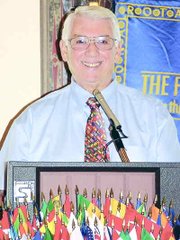 A story about a little girl's view of the seven wonders of the world was part of visiting Rotarian Derek Bottomley's message during his visit with the Sunnyside Noon Rotary Club this past Monday.
"The little girl was asked to write what things she felt should be included as the seven wonders of the world," Bottomley explained.
"Her teacher, thinking the child would list such man-made marvels as the Great Wall of China, was touched when the girl wrote the following: "The seven wonders of the world include the ability to see, hear, taste, feel, touch, laugh and love," explained Bottomley.
"The little girl's version of the seven wonders of the world serves to remind us of the importance of our service to Rotary," said the Canadian, who now serves as the District Governor of Rotary District 5060.
Bottomley, a retired banker from Kelowna, British Columbia, was in Sunnyside as part of his tour of Rotary clubs. Bottomley oversees a district which covers the central part of British Columbia from Clearwater to Sunnyside in Central Washington.
Bottomley, who has been a member of Rotary International since 1969, praised the Noon Club's 27 members for their support of such charitable projects as the International Rotarian's polio eradication program, Roto-plast, Rotary International Foundation, as well as the youth exchange program, which is a large part of the international relationships fostered by the network of businessmen and company executives.
Bottomley encouraged the Sunnyside Rotarians to continue to do good work and to continue to add to its membership.
Bottomley said Rotary International is preparing to celebrate 100 years of service this year and continues to be dedicated to programs involving eradication of illiteracy, unsafe water, diseases and hunger in developing countries.
"Most of us live comfortably in safe and clean environments," he noted. "We can celebrate our situation by continuing to help those who need our help," he said.
"I want to thank you (Sunnyside Noon Club members) for your continued support of international projects, but also for your continued efforts centered on local projects, such as the swim team, your Christmas giving and scholarships to area students," he said.
"I'm proud to serve this district which takes as its motto - "we are dependable, reliable and available," he added.