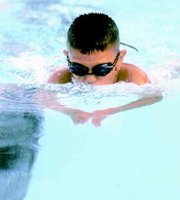 DES MOINES, IOWA - Cristian Vargas had one goal when he went to the AAU Junior Olympics in Des Moines, Iowa earlier this month. The goal for the 10-year-old Sunnyside swimmer was to make a name for himself and that is exactly what he did.
Vargas qualified for the national Junior Olympic swim meet Aug. 1-7 after winning high points honors at the annual Toppenish AAU swim meet earlier this summer. Vargas has been a member of the Sunnyside Sharks swim team for the past three years.
"I was pretty nervous," said Vargas of his Iowa trip.
What was even more notable for Vargas is that he had to practically board the plane to Iowa as soon he wound up his performance at the Mid-Valley League swim championships.
Vargas made the trip to Iowa with his grandfather, Jose Marquez, and his uncle, Eduardo Marquez. Vargas competed at the Junior Olympics in the boys 10 and under division.
At the national event, Vargas competed in several different events.
Vargas placed as an alternate for the finals in the 200-meter freestyle. Vargas swam a 3:18.08 in the prelims of the freestyle, coming up just a bit short of making a qualifying time.
In the 200-meter individual medley, Vargas placed eighth. He had a preliminary qualifying time of 4:02.31. In the finals, Vargas had a clocking of 4:05.84 to place eighth.
Vargas had an 11th place showing in the 100-meter breaststroke. Vargas had a time of 2:03.66 in the prelims. He was 10 seconds out of a top 10 finish in the finals, coming in 11th with a clocking of 2:05.04.
Vargas took 11th place honors, as well, in the 50-meter breaststroke. Vargas qualified for the finals heat with a preliminary time of 58.47. Vargas just missed a top 10 finish in the finals, swimming a 55.72. He was just behind Jack Finlay, who had a clocking of 55.11 for 10th place honors.
In the 100-meter backstroke, Vargas finished 15th. Vargas swam a 2:02.55 in the preliminary heat. In the finals, Vargas had a clocking of 2:00.24 to place 15th.
Vargas said he had a lot of fun at the event. He was also amazed by the number of people who were swimming at the Junior Olympics.
"It was fun, but it was hard," said Vargas.
While in Iowa, Vargas and his family went sightseeing at the various malls and parks. One of his favorite stops was the Adventure Land Amusement Park.