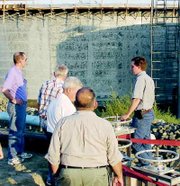 The Port of Sunnyside commissioners learned first-hand of the progress of the Sequence Batch Reactor (SBA) at the industrial wastewater treatment facility on Midvale Road Wednesday night.
Currently, the Port of Sunnyside cleans industrial wastewater by running it through a series of lagoons and aerators before spraying the water onto alfalfa spray fields for a final cleaning, according to project administrator Travis Jansen.
He explained that the problem with the current method of cleaning water is that during the winter months the wastewater has to be stored up because it cannot be sprayed on the fields.
"Right now, as it is, our lagoon maxes out in the winter," he said.
With limited amounts of wastewater storage space, each of the Port's wastewater customers are limited as to how much wastewater they can send to the Port during the winter.
"In the past, all users have had a maximum amount they can bring us in the winter months," said Jansen. "They've been limited a little bit. With this facility they can expand their business as well in the winter months."
When the SBR is completed the local port district will be able to treat more water and the water will be cleaner when it is disposed of.
Jansen explained that the water that will be treated in the SBR will be clean enough to meet Department of Ecology standards, which will allow the water to be discharged into a nearby drainage ditch.
"This allows us to treat more water and we won't have to limit our customers in the winter," said Jansen.
Disposing the water in the drainage ditch is just a temporary solution. Jansen said the Port is working on developing a wetlands project that will allow the Port to discharge the treated water to a wetlands area along the Yakima River at the corner of Murray and South Emerald roads.
Jansen said the wetlands portion of the project is still in the study phase.
The SBR portion of the project is expected to be completed this December.