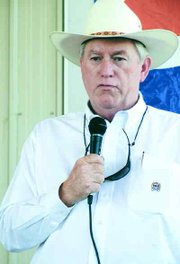 GRANDVIEW - A fair, no matter where it's located, is more than just carnival rides and different food booths. Instead, it is a place where the community comes together to celebrate what makes the area special and unique.
Wednesday afternoon, Greg Stewart with the Central Washington State Fair talked to members of the Grandview Chamber of Commerce about what fairs can do for a community.
Stewart said fairs can serve as everything from a place to showcase agriculture to a place to see friends and neighbors.
Fairs are also a place where young people can take on more responsibility. Stewart said walking through the animal barns at the Yakima Valley Fair and Rodeo in Grandview, it is easy to see the young people who have taken on the responsibility of raising and training an animal.
"They're responsible for a life," Stewart said. "For taking care of that animal."
He said experiences like that will stay with people the rest of their lives.
"It's learning social skills, developing memories and having a good time," Stewart said.
He then challenged the Chamber members, who held their meeting at the fairgrounds, to look around them. Stewart pointed to several of the food booths, noting that money being raised at the different booths will be going to causes that will continue to affect the community even after the fair closes for the season. Stewart pointed to the volunteer firefighters using their burger booth to raise money for their cause, as well as to the Rotary Club and another food stand that is raising money to help students pay for college.
"That is the impact it has on a community," Stewart said.
He added that fairs also serve as a place for the community to converge.
"It's a place people go to meet others," he said. "To see people they haven't seen in a long time."
Stewart also took a minute to congratulate the Yakima Valley Fair and Rodeo Board, as well as the Chamber of Commerce, on all of the hard work they have done to put together this year's Lower Valley fair.
"Truly, it does look great," Stewart said.