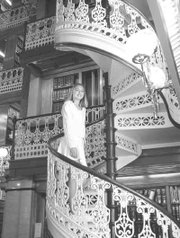 DES MOINES, IOWA - Katie Knee went into the AAU Junior Olympics in Des Moines, Iowa, earlier this month thinking that she would use the opportunity as a growing experience.
Well, the situation turned out to be a bit more than Knee imagined.
Knee was one of hundreds of participants in the swimming portion of the AAU Junior Olympics in Iowa the first week of August.
"I did pretty well," said the Sunnyside girl.
Knee did a bit more than well, placing in all six individual events in the girls 14 and under division. She also swam as part of the 200 and 400 freestyle relay teams with members from Arkansas, placing fourth in both outings.
"It was really fun," said Knee of her pairing with the group from Arkansas. "I got to know a lot of them."
Knee's best individual outing came in the 200-meter backstroke, placing fourth with a time of 2:58.66. She had a time of 3:06.10 in the preliminary heat. Knee was just 2.08 seconds out of a top three finish. Ashley Hairston of Michigan took third place honors with a clocking of 2:56.58.
Knee's other top 10 finish came in the 100-meter butterfly. Knee had a finals qualifying time of 1:20.97. She placed ninth in the finals with a clocking of 1:26.45.
In the 200-meter freestyle, Knee took 10th place honors with a clocking of 2:48.52. In the prelims, Knee qualified for finals with a time of 2:45.48.
Knee grabbed a 10th place showing in the 100-meter backstroke, recording a time of 1:24.88 in the finals. Knee had a finals qualifying time of 1:24.39.
In the 100-meter freestyle, Knee took 11th place honors with a time of 1:11.44. In the preliminary heat, Knee swam a 1:11.06.
Knee's toughest event was the 50-meter freestyle. She took 13th place with a time of 32.46. Knee swam a 31.71 in the preliminaries. Knee said the freestyle event was difficult for her because there were so many swimmers, 45. Knee said it was hard for organizers to keep track of who finished where.
Knee also said the 200 backstroke was a bit difficult because she is not used to swimming that event.
Accompanying Knee on the trip was her mother, Carolyn, and her grandmother, Betty Galbraith. Knee said the trip would have been difficult for her if she hadn't met the swimmers from Arkansas.
Knee said it was hard for her when she first walked into the competition area. Knee was tired from the plane ride, having left for Iowa almost immediately after the Mid-Valley League swim championships. Knee was quickly able to strike up a friendship with the Arkansas group.
"We just kind of hung out," she said. "It was really great."
The group of Arkansas swimmers invited Knee to come and stay with them next summer, as they prepare for the Junior Olympics next year in New Orleans.
"I think that would be really great, but I have to talk my mom into it," Knee laughed.
Knee spent most of her time going back and forth between her hotel room and the Junior Olympics meet. Her day would begin at 7 a.m. and end somewhere around 9 p.m.
Despite the busy schedule, Knee viewed her time at the Junior Olympics as a valuable experience.
"It was awesome," said Knee. "I would definitely do it again."