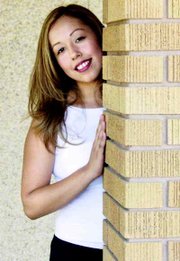 It is rare you'll ever see Andrea Garcia without a smile on her face. There is good reason because Garcia has plenty to be happy about these days. She has a spot she loves on the Sunnyside High School cheerleading squad, she is involved with numerous school activities and taking up most of her time recently has been the Miss Sunnyside program.
Garcia, 16, is one of eight young ladies vying for the title of 2004-05 Miss Sunnyside. The annual pageant will be staged Saturday, Sept. 18. The pageant will be held in conjunction with the community's Sunshine Days festivities.
Garcia, a life-long resident of the area, will be a junior this fall at Sunnyside High School. She is the daughter of MaryAnn and Joel Garcia. She is being sponsored in this year's Miss Sunnyside pageant by El Valle Restaurant and Raquel's Hair Botique.
For the past couple of years cheerleading has been at the forefront for Garcia. She recounted how she had wanted be a cheerleader ever since she was a little girl. Garcia said she can remember going to cheerleading camps as a little girl and always looking up to the older cheerleaders, wanting to be like them. This year marks Garcia's second season on the Sunnyside High School cheerleading squad.
"It is great," said Garcia. "Being in front of the entire school you kind of get pumped. If you are pumped up, they (the crowd) are pumped."
In addition to cheerleading, Garcia is involved with the high school Distributive Education Clubs of America and the Link Crew, which helps incoming freshmen make the transition from middle school to the high school. Garcia is also an honors biology student.
Dancing is another hobby of Garcia's. Earlier this year, Garcia enrolled in jazz dance classes to help prepare her for the talent showcase at the Miss Sunnyside pageant.
"I like it a lot," said Garcia.
When she does have spare time, Garcia keeps herself busy with arts and crafts projects. She has been creating different arts and crafts projects since the sixth grade. Garcia found the fun side of arts and crafts when campaigning for a middle school class office. Garcia explained she utilized some arts and crafts projects for her campaign signs and her love of the hobby just took off from there.
"I have all kinds of things in my room," said Garcia. "You never get bored with it."
The most difficult crafts project Garcia has started is a photo album. Smiling, she said it was hard for her to get it to look like she wanted.
Garcia has long had a desire to represent the community on the Miss Sunnyside court. Garcia said when she was younger she ran for the title of Little Miss Sunnyside.
"It was a good experience," Garcia said.
Her longing to compete for the Miss Sunnyside title grew in many ways, from when she ran for Little Miss Sunnyside, explained Garcia. She views her current quest as a valuable growing experience.
Preparing for the Miss Sunnyside pageant has been an interesting experience, so far, she said.
One of the major perks of being involved with the Miss Sunnyside program, said Garcia, is that it helps teach you about maturity and how to be a more responsible person.
"I am hoping I will grow a little bit more," said Garcia.
Being a lifelong resident of the area, Garcia said she has always enjoyed Sunnyside.
"I like the people," she said. "They are really friendly. They are giving and they do want to help you."
If rewarded with a spot on the Miss Sunnyside Court, Garcia would like to make the Sunnyside Parks and Recreation Department her community service project.
"I would want to work more with the little kids," said Garcia. "That is where it all starts when you are little. It (the parks department) keeps you out of trouble."
Garcia said she can remember as a small child having her interests piqued in cheerleading through the camps the parks and recreation department organized.
Garcia describes herself as someone who is determined, funny and enjoys being involved. Garcia said she would like to take all of those attributes and put them to use if she was named to the Miss Sunnyside court.
"I would want to be a good role model," said Garcia. "If (young children) see me as that way they would want to be like that."
After high school, Garcia plans to attend college to study to become a teacher.
"I picked education because I like to teach," said Garcia.
If Garcia is named to the Miss Sunnyside court, she sees it as a dream come true, knowing all of her hard work paid off.
"I would see it as a privilege," said Garcia. "Miss Sunnyside is not just something that is given to you."