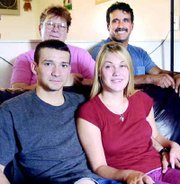 Calling his short two-week leave from military service a "tease," Army National Guard Specialist Jesse Fierro is already headed back to Baghdad.
"I would have liked to have been home a bit longer," he said.
Saying he has another nine months to serve on his current tour of duty, Fierro goes back to Iraq knowing that when he does gets back home he and his girlfriend of four years will be married.
While home, the 2002 Sunnyside High School graduate proposed to his childhood sweetheart, Terry Luther. The young couple plans to be married shortly after Fierro comes home next April.
"Hopefully we'll be married in July 2005," he said.
Fierro, who claims he has wanted to be in the military since he was a boy, is beginning to wonder if the military is where he wants to stay once his current enlistment is up.
"The re-enlistment benefits will have to be good," he said. But for now the young solider is willing to go back and do what he and his fellow members of the Army National Guard 81st Brigade, which is composed of Washington and Oregon servicemen, have been assigned to do.
Fierro said his team is involved in patrolling the streets of the worn-torn city of Baghdad.
"We collect information and act upon the information we collect," the soft-spoken young man explained.
"I guess we are acting like a military police force," he explained.
While noting that the public utility conditions in the capital city are primitive, the people generally seem welcoming of the American troops. "Some try to give us food and convey they are happy to see us," he explained. "Others are asking for help," he said.
"The poverty is overwhelming," he said. "It's really hard to understand why in some parts of town you can see people throwing sewage out second and third story windows, and in the areas of Baghdad, where Saddam's family and army lived, inlaid gold can still be seen on the ceiling of the palaces," he said.
Fierro, who caught a plane early this morning (Friday) back to Fort Worth, Texas, will join up with his unit before getting his traveling orders.
In all likelihood, he and his fellow soldiers will be immediately heading back to Baghdad, he said.
Fierro's unit, which was mobilized in November, has been in Iraq since April 2. The young solider, who celebrated his 21st birthday while on leave, joined the National Guard while a high school junior.
He said he was surprised by the conditions in the desert country.
"The road from Kuwait to Iraq is lined with refugees begging for water and food, " he said.
Surrounded by his family, Fierro related some of his experiences while stationed in Iraq, but mostly he prefers to kick back with his fiancee. "And eat," said his mother, Kathy Fierro.
"We're just happy he is safe," she said.