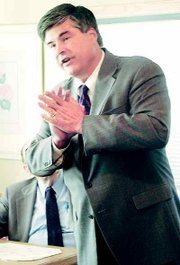 Who is Reed Davis? He will tell you, straight away, that he is the conservative in the race for the U.S. Senate seat currently held by Democrat Patty Murray.
This morning (Friday), Davis stopped by the Sunnyside Republican Club meeting to talk about his campaign and what he hopes to accomplish if he is elected to the U.S. Senate.
Davis said one of his first priorities is regulatory reform, noting that it is something that affects everyone from small business owners to farmers.
"One thing that drives business to its knees...is federal regulation," Davis said. He added that on average every business in the state spends $7,000 per employee, per year just to stay in compliance with federal regulations.
Davis said he has talked to farmers and business owners throughout the state in regards to their concerns about federal regulations. He said one farmer in particular stood out in his mind, a Kittitas County farmer who told him a that it isn't the fact that a government agency, like the Environmental Protection Agency, comes out to his farm and tells him what is wrong that bothers him. Instead, Davis told members of the local Republic club, what bothered this farmer was the next step in the process.
Davis said the government agency then steps in and tries to tell that farmer just how he is going to bring his farm into compliance, regardless of the cost or the effectiveness of the method.
Davis said that farmer told him that he feels he should be allowed, with his own ingenuity, to figure out how to come into compliance without a government agency giving him step-by-step instructions.
Davis said this is where relief from federal regulations would come in. He explained that it would give farmers and other business owners a chance to work with government agencies to fix any problems that might come up, instead of being forced to work under them.
"We do not create a climate of trust," Davis said about the current system. "We need regulatory relief so [businesses and farmers are] no longer the bad guy," he added.
Davis then took time to talk about the federal deficit.
"We have to begin to reign in federal spending," Davis said.
He said the way the federal government is currently spending will ultimately cripple the next generation of Americans. Davis said it is his belief that things like social security can still be saved, noting that people should be given a chance to take a chunk of their money and put it into personal accounts, allowing them to save for the future.
When it comes to a constitutional amendment that would ban same-sex marriage, Davis told members of the local Republican club that it is something he supports.
"Children need to be loved by both a mother and a father," Davis said. He then pointed to research that suggests children need to have a family that consists of a mother and a father.
Davis said the current situation, where courts across the country are making the decision of whether or not same-sex marriage is legal, is not the proper way to go about things. He said he feels that anything less than a constitutional amendment in regards to same-sex marriage, "...will be nothing more than a stop gap."
Davis also took time to talk about his support of the Black Rock Reservoir project.
"In this state the farming community really wants one thing - water," Davis said. "I think the most important thing you need is water."
Davis is running against Rep. George Nethercutt for the Republican nomination to run for the U.S. Senate seat currently held by Murray.
Davis, who lives in Maple Valley, is an associate professor at Seattle Pacific University, where he teaches classes on political science. He has also served as the chair of the King County Republican Party for eight years.