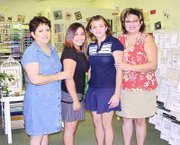 Taking their passion for scrapbooking and turning it into a business has been a dream come true for Martha Esparza and her aunt Carol Diaz.
The two women, who have been actively scrapbooking for the past eight years, opened The Paper Tree Monday morning.
The store, which is located in the Sunnyside Mini Mall, features a supply of scrapbooking supplies, including different sizes and designs of paper, beads, embellishments and charms, according to Diaz.
The store also features a few gift items and will carry homemade wreaths and swags, as well as 4 Seasons Coffee.
"We're going to be making our own cards," added Diaz.
Originally stamping fanatics, Esparza and Diaz began scrapbooking and their interests grew. Although The Paper Tree is considered a scrapbooking store, the business will also have stamping and embossing supplies, such as brushes and stamp pads.
"We've always wanted to open some kind of shop combining crafts and gifts," said Esparza. "We have a passion for scrapbooking. We decided to incorporate it all together."
For the past 13 years Esparza and her mother have been holding Christmas shows featuring Christmas swags and wreaths, tole painted items and birdhouses at her Grandview home. With the Sunnyside scrapbooking store opening there will be more of an opportunity to display their holiday crafts.
Besides offering a full supply of scrapbooking supplies, the business will also be offering scrapbooking classes and "crop 'til you drop" nights.
"Crop 'til you drop will start at 6 p.m. or so and go to midnight or one or two in the morning," said Esparza.
The store features two work areas for customers looking to use the Sizzix die cut machine, which is used to cut letters or shapes, or to make stickers with the sticker making machine. For those who are just looking for a second opinion, Diaz and Esparza are there for that, too.
Customers can lay out their pictures and design ideas on the tables while gathering inspiration from the different designer products.
For those with children, a toy box at the store can keep the youngsters occupied while mom is shopping or using the work tables.
Some of the scrapbooking products carried by The Paper Tree include items from such companies as K & Company, Brenda Walton, Karen Foster, Paperbilities and Phrase Cafe.
"We looked at getting some of the bigger names," said Diaz.
"We've really tried to bring in a variety of things," said Esparza. "We're also open to suggestion and will take orders. We want to make it a one-stop scrapbooking place."
The two women even have ready-made scrapbooking pages for those who can't find the time to lay-out a page. The scrapbooking pages are ready for journaling and pictures.
Esparza said the hope is that in the future they will be able to make scrapbooks for other people for a nominal charge.
"Scrapbooking is a living documentation of life," said Esparza.
She added that advice she gives to new scrapbookers is to start scrapbooking today. She said it makes it easier to scrapbook current pictures, which makes the task less overwhelming.