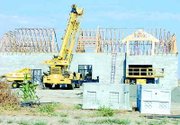 For the past few years Henry Oord of Oord Dairy has been thinking about expanding his operation. And recently, that expansion has begun to become a reality.
Oord explained that the 200 to 300-acre expansion will allow him to consolidate the operations he currently runs. He noted that although his main operation is located on Maple Grove Road near Sunnyside, the site of the expansion, he also operates a site on Hornby Road in Grandview. Oord said not only will the expansion bring his herds together, it will also allow him to milk his animals using more sophisticated equipment.
Dave McFadden of the Yakima County Development Association (New Vision) and the secretary of the Yakima County Public Corporation said Oord has entered into a partnership with Yakima County to help gain more favorable funding for a portion of the expansion project. He said the partnership includes not only the dairy and Yakima County, but also New Vision and Key Bank, which put together the financial package.
McFadden said with help from the county corporation, Oord Dairy qualified for access to exempt bond funding to cover some of the costs of the expansion. He said the portion of the $10 to $12 million expansion project that qualified for exempt bond funding was the estimated $4.5 million that will be used for pollution control equipment.
Oord said the pollution control equipment includes equipment for the containment of water at the dairy site, equipment to separate manure out of the water, and equipment to help safely irrigate. He added that it also incudes an emergency pond for catching storm run-off or dealing with pump failure.
McFadden said the pollution control equipment portion of the project qualifies for exempt bond funding under the U.S. tax code. He said funding is offered to a business, like Oord Dairy, at a much lower interest rate than a typical loan. He said the interest rate is typically 2 to 4 percent below a conventional loan interest rate.
McFadden explained that to qualify for exempt bond funding a project needs to first have qualifying costs, then the tax exempt bonds need to be issued through a public corporation, a status Yakima County has through the Yakima County Public Corporation.
According to McFadden, one of the last steps in the exempt bond funding process is to conduct a public hearing and have the bonds approved by Yakima County commissioners. McFadden noted that during the public hearing there were no comments received on the project and that the issuance of the bonds was approved by commissioners yesterday (Tuesday).
McFadden said the Yakima County Public Corporation typically deals with one exempt bond funding project every year.
"It's a great financial tool for an established, financially stable company," McFadden said.