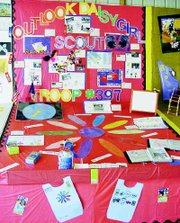 When Outlook Daisy Girl Scout leader Andrea Gatica learned that the Mid Columbia Council had to come up with $50,000 or face closure, she nearly fell over.
Gatica said that every council is required to have a "Give from the Heart" fund, which allows girls who can't afford Girl Scouts to still participate in the program. The money is used for dues, uniforms and other expenses the girls have, said Gatica. There are 90 troops in the Mid Columbia Council. Six of those troops are in Grandview, five in Sunnyside and one in Outlook.
Since she learned the news, Gatica and other parents of Girl Scouts have been working to raise the money needed, finding individual donors and businesses interested in supporting Girl Scouts.
"A lot of parents just don't have the funding," she said.
The troop also made a donation to the fund.
Outlook Daisy Girl Scout troop #397 donated half of its winnings for their booth at the Yakima Valley Fair and Rodeo to the "Give from the Heart" fund. The other half of the money, or $75, will be used to purchase ceremonial flags, which will be needed as the girls transfer from Daisies to Brownies.
The vibrant red display at this year's Grandview fair featured pictures of the girl's activities, as well as the goals the Daisy Scouts learn to live by.
"We were not expecting to win," said Gatica.
As part of this past year's activities they Outlook group made "Girls are Great" suncatchers, said Gatica.
Their scrapbook highlighted events such as the Daddy-Daughter Dinner.
"They made invitations for their dads and for half an hour they got to sit down with their dad or grandfather, an adult male who cares about them," said Gatica.
At the dinner, the girls made each of their dad's favorite dish for the meal.
The girls also had a Mommy and Me Tea, said Gatica.
"We taught them how to serve, and etiquette," she added.
The girls had a Got Sweats drive at Outlook Elementary School and were able to collect three huge boxes of clothing, which will be used for students at the school this next year.
After the clothing drive, Gatica said, the girls had to find five additional acts of service that they wouldn't normally do.
"It's about going out and making yourself a better person," Gatica added.
"I've already seen a change even in my own child, in her behavior and how she treats people," said Gatica.
Those interested in donating to the Give from the Heart fund can call the Girl Scout Council, (800) 967-8113. Contributions are tax deductible.