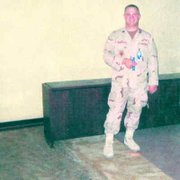 A letter from their son's commanding officer both reassured and worried the Sunnyside parents of Air Force Capt. George Woodworth.
Woodworth, a 1990 Sunnyside High School graduate, is now stationed in Badgdad, where he is among the American troops helping with the rebuilding of Iraq.
The son of Mariea and St. Clair Woodworth, the 10-year military veteran is on a list of officers to be promoted during the coming weeks, according to his father.
"He is looking at being promoted to major," said St. Clair Woodworth.
Concerned that he is now in the center of the middle eastern country, which has been at the center of the global war on terrorism, the Sunnyside couple is grateful to learn that their son is, for the time being, safe.
"George is now stationed in the green zone, where most of Saddam's palaces and the embassy buildings are located," he explained.
A University of Washington graduate with a degree in chemical engineering, Woodworth left for the Iraqi capital city in July.
"We recently received a letter from his commanding officer, Major General Stephen T. Sargeant, who is the Deputy Chief of Staff of the Strategic Political-Military division of the Multi-National Force now stationed in Iraq," the elder Woodworth explained.
In his letter, Sargeant explained Woodworth and his division are working in and around the Iraqi palaces, "daily surrounded by the reminders of why we are in this battle to achieve a stable and secure Iraq."
He also said Woodworth is "doing great, tough work on behalf of the U.S.A. and you should rightly be proud of him."
The general also thanked the Woodworths for their support of their son as the troops "work to secure freedom for the Iraqi people."
While the Air Force captain is overseas, his wife and two children are living in Hampton, Va., said his father.