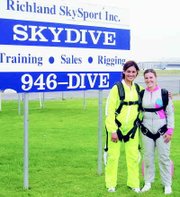 RICHLAND- It started as two little girls' dream to celebrate their eventual release from high school.
This past Saturday, high above the city of Richland, Grandview teens Becky Sexton and Krista Artz jumped into the wild blue yonder and into their futures.
"The adrenaline rush that you get when you are hanging out of the plane and then falling down is indescribable," said Artz.
"The view from the sky is gorgeous, even better than an airplane ride because you aren't confined to the 12-inch windows," she added.
The 2004 Grandview High School graduates had agreed back in the sixth grade they would go skydiving to mark their passage from girlhood into womanhood, explained Artz.
"We promised each other that after graduation that no matter what, we were going to experience skydiving," she said.
Even though the girls graduated in June, time slipped into July before the best friends realized that if they were going to live their dream - "it was now or never.
"We suddenly realized we needed to go skydiving before I left for college," Artz said.
The girls called around before finally locating a Richland jump school, Richland Skysport, that would help then fulfill their girlhood fantasy.
The girls picked Saturday, Aug. 14, as the official jump day. "We had to wait until after my 18th birthday, which was on Aug. 6, before they would let me jump," explained Artz.
The friends spent the rest of July saving up for their adventure. It cost them $258 each for their aerial leap.
But before they could even climb aboard the airplane, Sexton and Artz were required to sign four pages, front and back, of waivers and releases.
"We then had to watch a short video of skydiving 'dos and don'ts'," Artz added.
Impatient to take to the skies, the girls then had to take a small lesson from the Skysports' tandem master. "The tandem-master was the guy who stayed strapped to us during the dive," she explained.
With all of the legalities and the lesson out of the way, the girls suited up and took off.
"We had 40 seconds of freefall before the tandem-master pulled the parachute," said Artz.
Floating the 11,000 feet to the ground culminated a dream the girls had formed back in sixth grade.
"I know Becky and I will definitely go skydiving again," Artz said, noting they haven't yet determined which of the next special landmarks of their lives will merit another 11,000-foot drop.
"But it will be a biggie," she grinned.
. Julia Hart can be contacted at
(509) 837-4500, or you can e-mail her at jhart@eaglenewspapers.com
#1
photos courtesy of Krista Artz
Becky Sexton of Grandview gets strapped into her parachute in preparation for her skydiving adventure. She and her friend Krista Artz of Grandview celebrated their high school graduation last Saturday by dropping 11,000 feet from an airplane.
Krista Artz had to wait until her 18th birthday before she was allowed to fulfill her childhood dream of parachuting from an airplane along side her best friend, Becky Sexton. The girls received instruction from the aerial experts at Richland Skysport for their adventure.